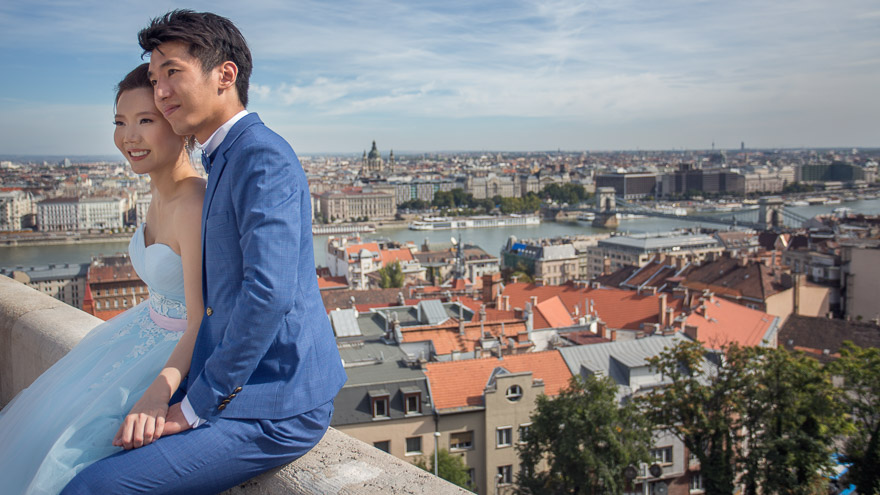 02 Apr

The Cost of a Wedding in Hungary and Budapest

Hungary is a popular destination for international weddings because of its competitive prices and gorgeous romantic locations. The small country in the heart of Europe has a plethora of fascinating landscapes and historical castles, which are more than suitable wedding venues for engaged couples. Budapest, the pearl of the Danube with its many faces, its spectacular view over the Danube is offering an unforgettable experience for those who organize their wedding in Hungary. In Budapest there is a huge variety of excellent venues, where catering with fine dining options is also available. The vibrant capital of Hungary has stunning palaces, elegant ballrooms and moody open-air terraces with panoramic views over the Danube.
An average-sized wedding in Budapest for 80-100 guests starts at 8.000 euros, which is very affordable compared to Western-European prices. If you organize your wedding in the countryside of Hungary, your total cost might be even less. Of course you can always hire a wedding planner who takes care of all the business and settles everything for you from wedding photography to music, but you also need to know that wedding planners work with higher prices as vendors also have to pay a commission for them. Our advice is that you might hire a wedding planner to help you with the organizing of your wedding but you can find your own vendors in some areas, for example you can look for a wedding photographer or cinematographer on the Internet to get better quality for the same price.
Photo: Weigert Images
In Hungary, a marriage can be contracted between a Hungarian citizen and any foreign citizen or a stateless person. There is also a possibility to get married for two citizens, who have the same citizenship, or between persons with different citizenships. Contrary to some countries, a Hungarian residence or address is not a precondition. You don't have to pay for the wedding ceremony in Hungary for the registrar, however if you want decoration, as well, or you want the ceremony organized at an outdoor location, you have to pay a small fee, around 100-300 euros for these services.
If you want a religious ceremony in Hungary, even in that case you need a civil marriage.  The church ceremony costs around 100 euros. The church might settle the decoration, as well, sometimes it is included in the price. However, you don't necessarily need decoration as most of the Hungarian churches are beautiful inside without any additional ornamentation.
Usually you don't have to pay rental fee for the wedding venue, however in Budapest there are a few selected venues where you have to pay 1000-6000 euros. Regarding dinner prices there is a huge variety, the wedding menu costs 20-50 euros on the average in Hungary, while drink packages cost around 15-25 euros per person. A wedding cake costs 2-4 euros per piece, that is 200-400 euros for the wedding party.
In Hungary we can frequently see a master of ceremonies (CM or vőfély) at weddings, however it is not necessary to hire a host, even a relative or family member might do this job. Their fee is between 300 and 500 euros for a day.
Photo: Weigert Images
Wedding photographer prices in Hungary are between 700 and 1300 euros depending on the service, which is considerably cheaper than in Western Europe. Weigert Images also provides wedding photography in Budapest and Hungary, please check our portfolio and feel free to contact us.
Wedding cinematography prices are similar to photography prices in Hungary, however as you need usually two filmmakers for great quality, the prices are set a bit higher, between 900 and 1500 EUR, depending on the selected service. Weigert Images is based in Hungary and also specialized in making wedding films, please check our portfolio on our main website.
Music and creating a good atmosphere with it is one of the most important elements of a wedding. In Hungary you can hire a DJ for 200-500 euros or a wedding band which is of course more expensive, prices are ranged between 600 and 1500 euros.
Regarding wedding decoration, it's advisable to use seasonal flowers as they are more available and affordable. You can spend 500-1500 euros for the decoration and 30-70 euros for a bouquet.
Regarding wedding dresses, you can rent one or buy one in Budapest or Hungary. Wedding dress rental prices are between 200 and 1000 euros, the average is around 500 euros. Purchasing the groom's attire is somewhat cheaper, it costs 200-800 euros. Wedding shoes cost 50-200 euros.
Photo: Weigert Images
You also have to spend some money on hairdressing (20-70 euros) and makeup (20-70 euros).
There are also additional items you have to spend some money on, like invitation cards, which cost 5-20 euros per piece. Buying a wedding ring in Hungary will cost you 30-1500 euros. You can spend 2-3 euros per person on thank you gifts, as well.
Also don't forget that you might need some savings for your honeymoon, too.
Would you like more info on our wedding photography and wedding film services in Budapest and Hungary? Please, check our work here: www.weigertimages.com