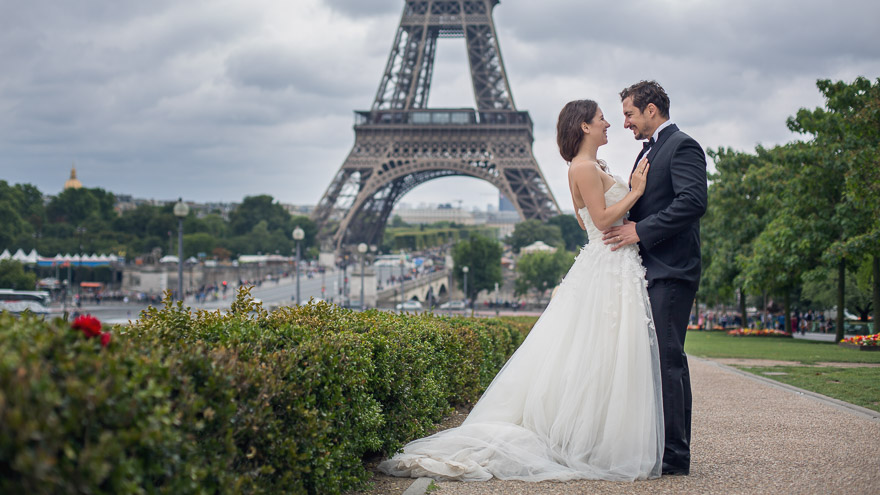 21 Apr

The Cost of a Wedding in France, the Land of Romance

Destination weddings in Europe and especially in France are on a growing trend. Today it is cheaper to organize a wedding in France than in Italy and in many Western European countries, like the UK or in the US.
With its scenic vistas, lush vineyards, cozy villages and dazzling Mediterranean beaches France is the dream destination for a lot of aspiring couples and their international weddings. Paris, the romantic capital of the world filled with charm and elegance offers a unique experience, something totally different compared with a countryside French wedding. France's gorgeous venues with romantic atmosphere, the great food and wine are really good value for the money. Because of its more affordable prices, today France has the same popularity as Italy regarding European destination weddings (Greece is the third in rank).
The French Riviera and Provence are the most popular destinations for international weddings. The best climate is in South France where the temperature is great with a lot of sunshine and limited rainfall during the summer months. South France offers its best between April and October (June, July and October are the best months).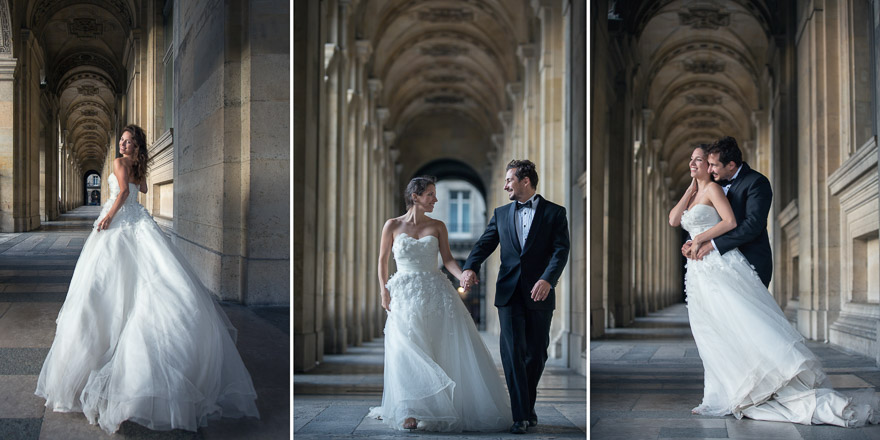 Photo: Weigert Images, you can view the whole series here.
You need to now, that in France only the civil ceremony is officially acknowledged and it cannot be performed outside the town hall (Hotel de Ville or Mairie). Civil ceremonies cannot be conducted at outdoor venues. Either the bride or the groom should be a French resident for at least 40 days to get married legally in France. If the groom or bride doesn't speak French, a translator is also needed. Of course if none of you is French, you can hold your civil ceremony in your home country before organizing a wedding in France.
While the average cost of a wedding in the United States is 26,000 USD excluding the honeymoon, elopements in Paris might cost as low as 10,000 to 20,000 USD including the ceremony, reception, hotel, meals and a honeymoon. The price of a regular wedding in France with 100 guests oscillates between 15,000 and 40,000 EUR. Couples getting married increasingly later and are already well-established in their careers, thus they can afford investing a larger amount in organizing their wedding.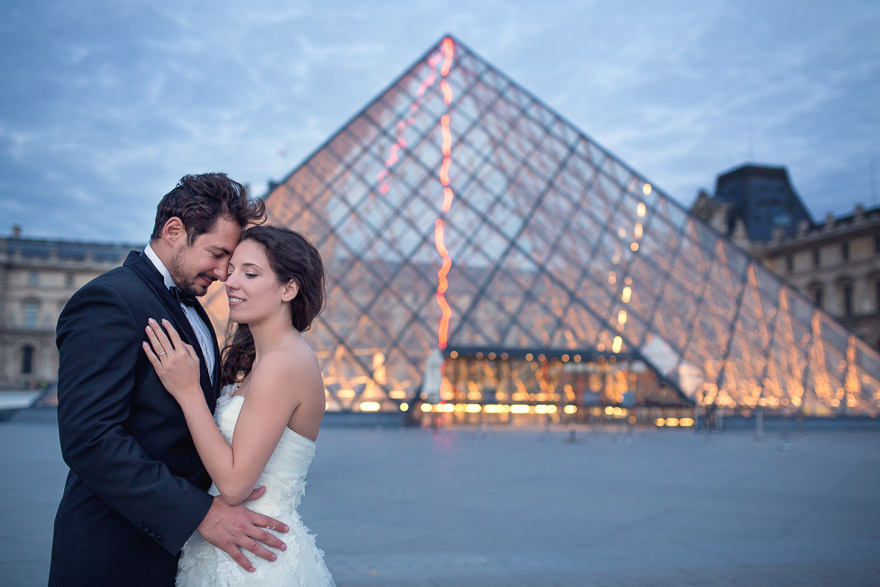 Photo: Weigert Images, you can view the whole series here.
What does it actually cost to organize a wedding in Paris or France? Let's delve into the details!
Regarding the venue or wedding location you can calculate with 1700 to 4500 euros. The price first of all depends on the size of the venue and the number of guests. Rooms usually can be rented independently and with meals included, as well. The rental fee is higher in cities than in the countryside and you can save money by getting married on a weekday or in the autumn or winter.
A rustic venue costs 2000-3000 euros, a manor or mansion 3000-4000 euros, a castle 3000-7000 euros.
About 60% of all costs of a wedding goes for the rental of the venue and catering!
Catering, including food and drink costs 4000-13000 euros. Your total cost depends mainly on the number of guests and the type of catering. However, buffet is not necessarily cheaper than plated service. A wine reception might set you back an additional 400-1400 euros.
The price of a wedding dress in Paris or France can vary from 900 euros to 8000 euros, while accessories, like the shoes, veil and jewelry might add up to another 200-1000 euros. Alternatively, you can also rent a dress for 250-700 euros. For the hairstyling, make-up and beauty therapy you should save 200-500 euros. The wedding suit for the groom is in the range of 400-1500 euros, but you also need accessories (tie, cufflinks) and shoes, which might cost another 200-300 euros. You might also spend some money on jewelry (350+250 euros).
Cap Ferrat French Riviera wedding film by Weigert Images – you can read the story and view the photos here.
Decoration for the reception location might set you back 600-2500 euros, but you also need to decorate your car (80 euros) and purchase a bouquet (60-200 euros).
You can hire a musician for the reception already for 350 euros, the DJ costs about 600 euros. Of course a decent band will mean a much higher cost for you, around 1500 euros or more.
Professional wedding photographers are generally in the price range of 1000-3000 euros in Paris or France. The price is based on quality, the length of photography and whether or not albums are included. Don't forget that this is the only memory that stays with you forever. Weigert Images also offers wedding photography at affordable prices in France, please check our portfolio on our main website.
Wedding video might be cheaper (900 euros), however wedding cinema is somewhat more expensive than wedding photography in France. Cinematography requires more refined and expensive tools, longer editing and usually two cameramen to record your wedding in France. The price of a wedding film in France can vary from 1500 to 3500 euros.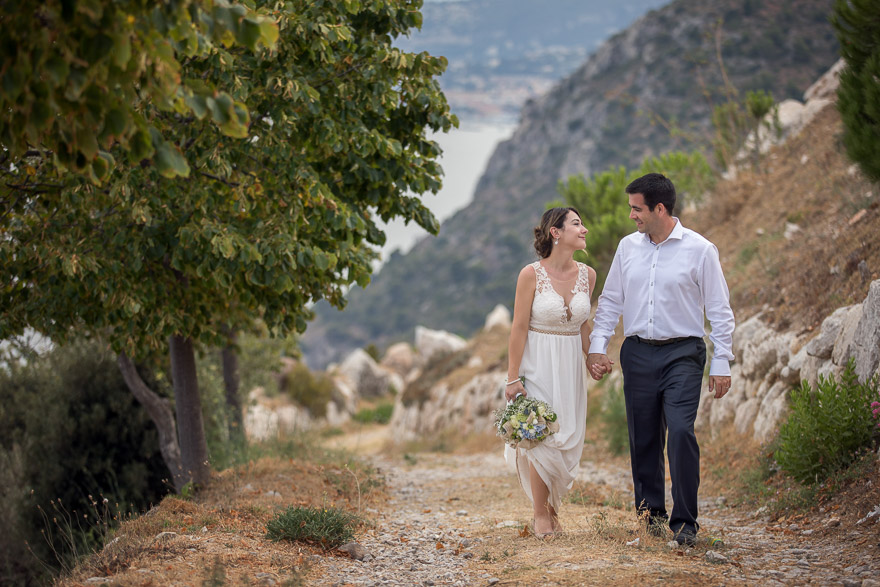 Photo: Weigert Images, you can view the whole series here.
Invitation cards, envelopes, thank you cards, menu and place cards mean further expense (400-600 euros) you shouldn't forget about.
In France only civil marriages are legally binding, thus lot of couples have two ceremonies. The civil ceremony including notary fees costs you 350-400 euros on average in France. The religious ceremony costs around 200-300 euros. It includes the donation to the officiant and the decoration of the place, as well.
You don't necessarily need to rent a car, but a wedding is an exceptional occasion and in most cases it's worth renting a luxury car, a vintage car or a carriage, depending on the distance and the style of your wedding (250-600 euros).
A honeymoon depending on your destination and the services offered might cost you as much as 1500-2000 euros.
Would you like more info on our wedding photography and wedding film services in Paris or France? Please, feel free to contact us: www.weigertimages.com