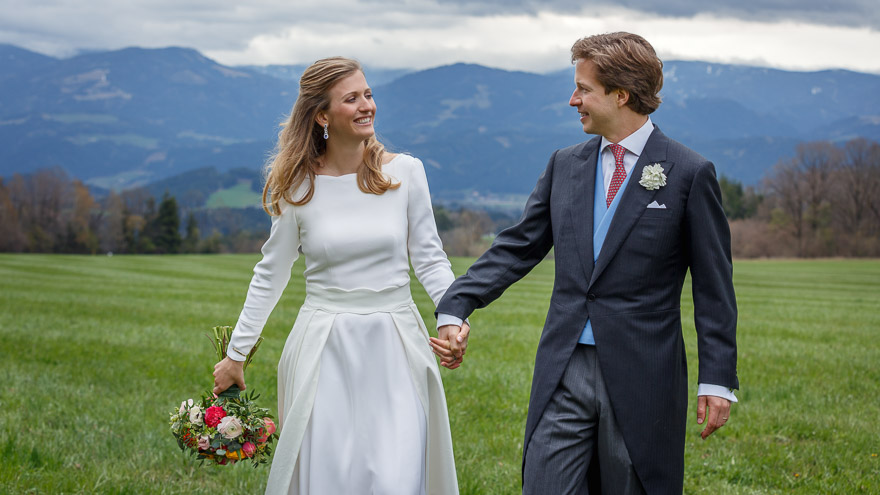 15 Mar

Wedding Photography Prices in Vienna and Austria

Wedding photography is a wonderful way to document your special day. But how much should you expect to pay for wedding photography? This can be a difficult question, especially if you're not aware of the local market for wedding photography in Austria. While higher prices often indicate better quality, there are also other factors to consider.
Therefore, it's useful to know the different price ranges and what makes good wedding photography. The price of wedding reportage can vary depending on the quality and style of the photography you want. In Vienna and Austria, there are three main categories of wedding photography prices based on 10 hours of shooting:
Prices under 1,000 euros – budget wedding photography
Prices between 1,000 and 2,500 euros – mid-range wedding photography with professional quality, this might be the best option for most couples
Prices over 2,500 euros: high-end wedding photography, where prices are not always justified by the quality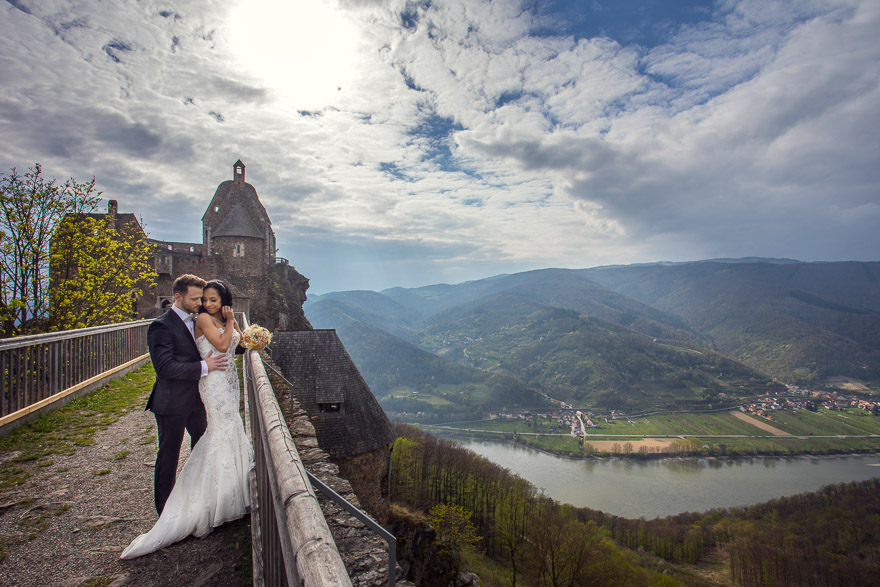 Budget wedding photography is usually done by amateur photographers who may not have the professional equipment or experience of higher-end photographers. While budget photographers can still document your day, you may not get the same level of image quality or editing applied as with mid-range or high-end photography. If you choose to hire a beginner or someone who shoot weddings only occasionally, you may not get the best results. This is because the price charged may not even cover the cost of professional camera equipment or support a sustainable business model. As a result, the cameras used in such cases may not produce sharp and clear images with beautiful depth of field. It is important to keep in mind that a cheap wedding photo service may mean that less time and attention is spent on capturing and editing the special moments of your big day.
Mid-range wedding photography is often done by more experienced photographers who have better equipment and more artistic knowledge. Mid-range photography typically offers better image quality and editing. The second category of wedding photographers may offer some good deals if you're lucky. Many couples planning a wedding in Vienna or Austria usually allocate a budget of 1,000 to 2,000 euros for their wedding photos. For this price, you can expect to hire an experienced wedding photographer who can deliver great photos. Weigert Images is also in this price bracket, please check our wedding photography portfolio on our main website.
High-end wedding photography is done by experienced and talented photographers who have top-of-the-line equipment and extensive experience. These photos require a great deal of time and expertise to produce, and the final product can be truly amazing. The highest quality wedding photos are usually found in the upper price category, but the price may not always be justified. However, if you hire a photographer who has a unique style, even a price above 2,500 euros can be acceptable, provided you have the budget for it. Ultimately, the decision of how much to spend on your wedding photography is entirely up to you.
Let's discuss the costs of wedding photography in Vienna and the rest of Austria. Typically, prices in Vienna are 10-20 percent more expensive than in other parts of the country. Nevertheless, if you decide to hire a photographer who is not based in Vienna, you may have to pay extra for travel expenses, which could raise your overall costs. It's vital to take these factors into account when calculating your budget for wedding photography.
Let's examine the elements that influence the quality of your wedding photographs more closely:
Firstly, it's crucial to assess the skill and expertise of your wedding photographer. Do they possess the knowledge and experience required to capture beautiful wedding photos? Entrusting your special day to a skilled and experienced professional is essential.
Secondly, the artistic style and vision of your photographer are significant considerations. Do they have a unique and creative approach to their work, or do they simply take generic snapshots? A passionate wedding photographer will invest their energy and attention to create stunning images. You may view their portfolio on their website to determine if their style resonates with your vision for your wedding photos.
Thirdly, the quality of the equipment utilized by the photographer plays a crucial role in determining the image quality of your photos. The costlier the equipment, the better the image quality you'll obtain. A professional setup with cameras, lenses, flashes, reflectors, etc., costs upwards of 10,000 euros, indicating the substantial investment necessary for excellent equipment.
Fourthly, it's essential to consider the level of commitment demonstrated by your wedding photographer throughout the hiring process. Do they sign a contract with you? Reputable and professional wedding photographers view a no-show as an impossibility.
Finally, the amount of time and effort spent on post-processing is a critical factor in determining the quality of the final product. Decent post-processing necessitates the editing and retouching of your photographs for 40-60 hours, resulting in great quality digital images or a professional-grade wedding photo album that you may treasure for a lifetime.
So, what makes good wedding photography? Great wedding photography captures the emotion and beauty of your day and tells the story of your love in a stunning and artistic way. Your wedding photos should have high image quality, including sharp focus, vivid colors, and professional retouching. The photos should have a recognizable, unique style.
In conclusion, while the cost of wedding photography in Austria can vary greatly, it's important to find a photographer who has the experience and skill to create photos that truly capture the essence of your special day. By choosing a photographer that matches your budget and style preferences, you can ensure that you'll have great wedding photos or even a beautiful wedding album to treasure for years to come. Your wedding day is a once-in-a-lifetime experience, and if your wedding photos are not up to your expectations, there's no second chance to redo them. We sincerely hope that this article has provided you with useful insights and guidance to help you make a more informed decision about your wedding photos.
Would you like more info on our wedding photography and wedding film services in Austria? Please, feel free to contact us.