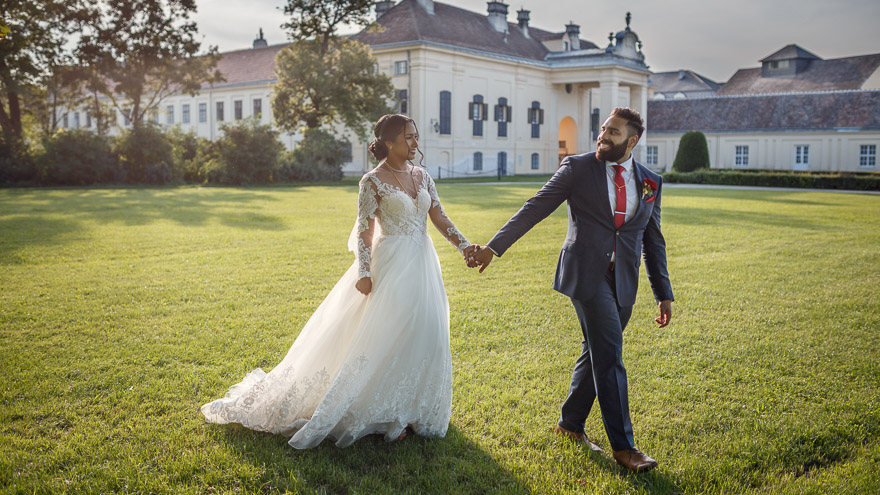 21 Aug

Indian Christian Wedding Photography | Eventhotel Pyramide, Austria | Silpa + Jemil

Attending an Indian wedding is always a unique opportunity in Europe, I was happy when Silpa and Jemil hired me to shoot their wedding in Austria.
Silpa's bridal preparations took place in Hotel NH Danube City in Vienna. After the hairdressing and makeup Silpa's mother and daughter helped her with her stunning dress and glittering Jimmy Choo bridal shoes. Jemil was getting dressed at his family home in Vienna or to be more precise, his family members dressed him as part of an Indian wedding tradition. After the ceremonious preparations the whole family prayed together, while at the hotel Silpa's family had a prayer at the same time.
The Catholic Church was nearby and Jemil saw Silpa there for the first time in her glorious dress. The ceremony had both Christian and Indian traditions, like tying the knot and veiling, when the groom places saree over his bride.
The two-hour long ceremony was longer than expected, thus I had limited time to shoot wedding portraits along the wedding cinematographer team at the nearby Laxenburg Palace Park (Schloss Laxenburg). It is the biggest landscape garden in Austria with two castles and it has an interesting history with roots in the 13th century. The historical environment fortunately proved to be ideal for our quick wedding portrait session. 20 minutes later it was almost dusk and it was time to drive to the reception venue.
Eventhotel Pyramide or Pyramide Vösendorf is a 40-meter high glass pyramid, a striking architectural landmark used for large-scale events. Almost 300 guests attended Silpa and Jemil's wedding, the venue proved to be a lofty, ideal place for their reception. The night was eventful with some traditional elements like cake cutting with the family members feeding each other and of course with a ton of dancing.