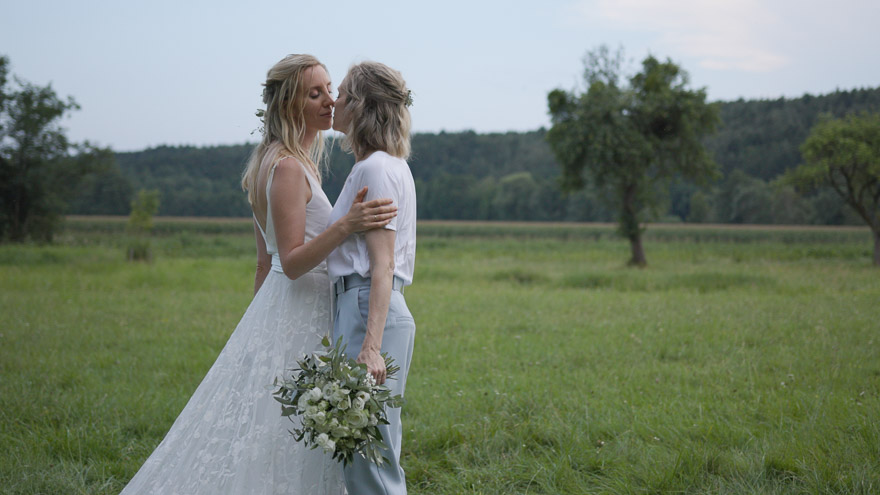 05 Aug

Same-Sex Wedding Film | Unterlungitz, Austria | Amelie + Ines

When Amelie sent me an e-mail to hire me as a wedding filmmaker, I was really surprised, since I hadn't shot a lesbian wedding video before. I was really excited to prepare for the wedding. I found out, that in Austria, same-sex marriage has been legal since January 1, 2019. This means that same-sex couples have the same rights and obligations as opposite-sex couples when it comes to marriage, including the ability to have a legally recognized wedding ceremony. Before the law change, queer couples in Austria were able only enter into a registered partnership, which provided them with fewer rights than married partners.
Amelie and Ines had their hearts set on a laidback and intimate wedding, and the Maierhofer Mühle restaurant proved to be the perfect venue for their special day. Nestled in the picturesque countryside close to Unterlungitz and Oberwart, the setting was idyllic and offered the ideal backdrop for their outdoor ceremony. We had a bright hot sunny day with no rain in sight. After all the guest arrived and had a drink, the ceremony took place under a majestic tree in the heart of nature. As the ceremony concluded, the guests gathered to congratulate the newlyweds and raise a toast to their happiness. The photographer took some group shots and we had a portrait session in the late afternoon. As evening fell, it was time for dinner and partying to begin in earnest. Live music was provided by the popular band graVity, and the dance floor was soon packed with guests eager to celebrate with the newlyweds. With laughter, joy, and love in the air, it was a night that Amelie and Ines will never forget – and neither will their guests!
Would you like more info on our wedding photography and wedding film services in Austria and Europe? Please, feel free to contact us.