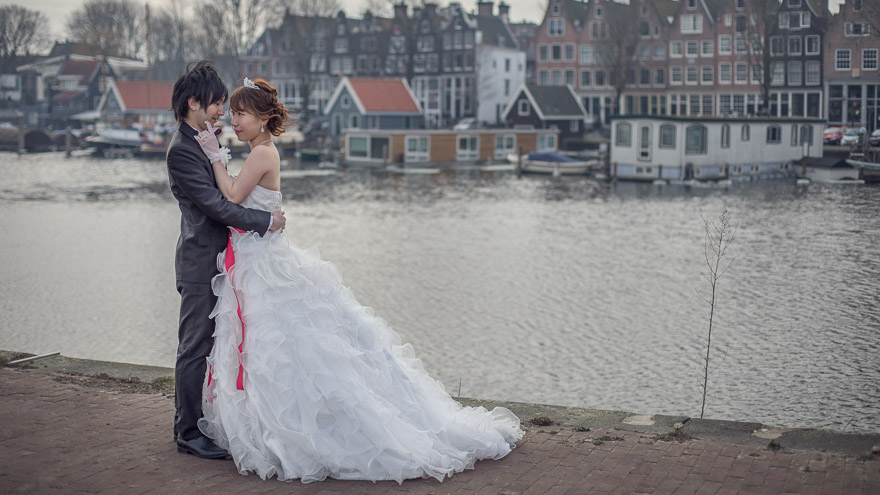 03 Mar

Amsterdam Pre-Wedding Photography | The Netherlands | Mao + Takuma

Shooting the pre-wedding photos of Mao and Takuma in Amsterdam was a sheer pleasure, except for the cold weather. The temperature was around zero degrees Celsius combined with cold wind at the beginning of March. It is a rare occasion when the canals of Amsterdam are frozen. Still, we were excited to have a pre-wedding photo shoot in Amsterdam.
Mao and Takuma are from Kyoto, Japan, however Takuma has been living in the Netherlands for four years. After marrying each other in Japan they will live in the Netherlands.
We started our photo session in Amstelpark at the south edge of Amsterdam. It was an open area with forests and meadows let alone a nice windmill in the clear. After half an hour we headed to Dam Square in Amsterdam. Its unique buildings make it one of the most well-known and iconic locations in the city and the country. The square was quite crowded as usual, thus shortly after our arrival and taking a few images we looked for a new location. We drove around the city and stopped at the Zeeheldenbuurt neighborhood of Amsterdam, located in the borough West. It was an open area with a great view with traditional Dutch buildings and water in the background. Then we headed back to the downtown to have a few wedding images with the famous bridges and canals of Amsterdam.
We drove to the city center and stopped at Staalmeestersbrug, the classic Dutch draw bridge that crosses the Groenburgwal. It is a very popular photo location, a "love" bridge with the beautiful, slightly crooked Zuiderkerk tower in the background. Padlocks are typically locked to these romantic bridges symbolizing a couple's love and dedication to one another.
The evening came and we had to finish our photo shoot, but we were satisfied with the results regarding the cold weather.
If you want to have your wedding photos taken in Amsterdam or the Netherlands, please feel free to contact me.