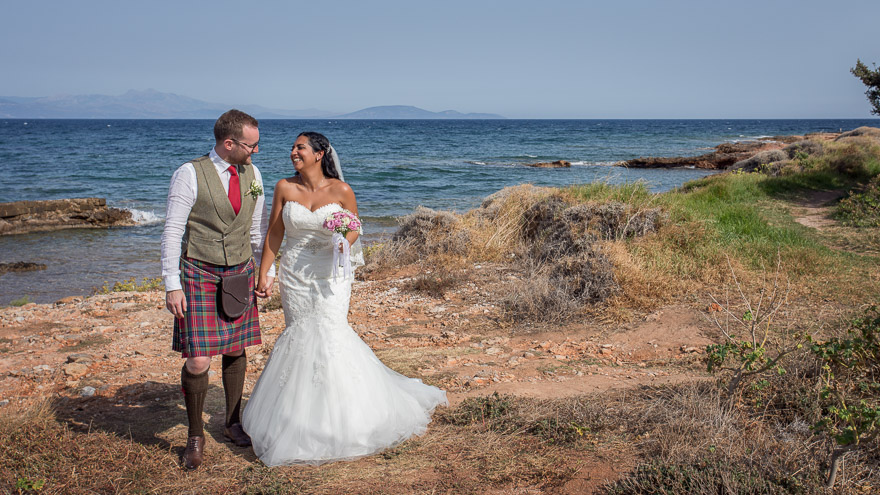 09 Sep

Ramada Attica Riviera Hotel Wedding | Mati, Nea Makri, Greece | Leonie + Andy

I met Leonie and Andy last year in November in Rotterdam, where we had an engagement shoot. They planned their wedding in the sunlit Greece, where Leonie's mother lives. As anyway they are from the UK, they are not really tied to the Netherlands.
It was truly an international wedding. Andy is Scottish, which gave an additional flair to the event. They chose a date in September, when the weather is milder in Greece, however they proved to be wrong: it was such a hot day that we couldn't even do a decent wedding portrait session on the shore. Nevertheless, everything else turned out to be perfect!
The previous day all the family and invited friends had a dinner in a moody tavern in one of the neighboring villages, by the beach of Artemida at Loutsa. The wedding took place the next day in the beautiful Ramada Attica Riviera Hotel (previously Aquamarina Hotel) in Mati, near Nea Makri. After the getting ready moments the wedding ceremony was conducted by Andy's best friend on the hotel's balcony overlooking the blue Aegean Sea. Afterwards the reception was held on the grassy courtyard of the hotel and during that we dedicated a very short amount of time for their wedding portraits. The celebration went on by speeches and the dinner on the balcony again, while the sun set down and the day turned into night. The party afterwards was spent with a lot of dancing. To sum it up: it was really fun to shoot a wedding in Greece!