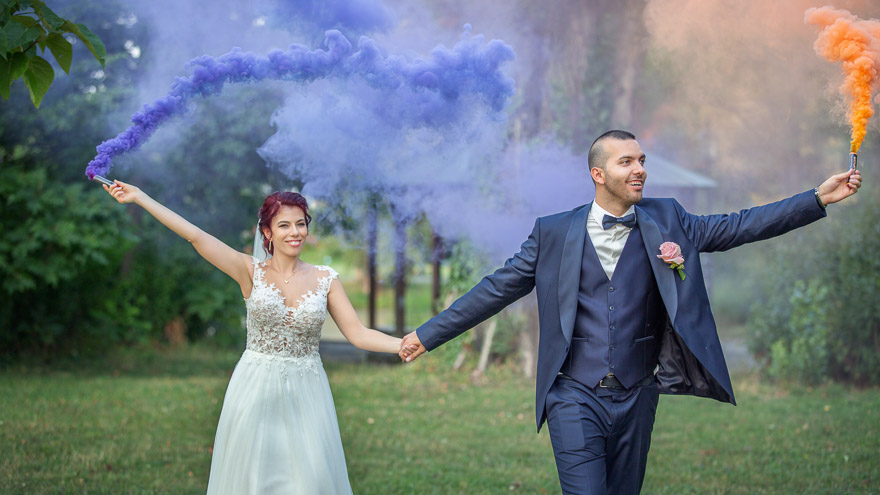 30 Aug

Bulgarian Wedding at Restaurant La Creperie | Vienna, Austria | Elena + Alex

Alex Nenov, a.k.a. DJ Alex is one of the best event and wedding DJs in Austria. I was delighted, when he asked me to shoot his wedding in Vienna. Alex is a friend of mine, we've worked together several times at Austrian weddings. Alex has Bulgarian ancestry and his significant other, Elena, too.
I started shooting the getting ready moments of Elena in their flat, then I moved to Alex's mother house to capture Alex, while he was getting dressed.
We had to hurry to Restaurant La Creperie, before the ceremony commenced. The location offers a fantastic view of the Danube (Alte Donau), the French restaurant is a place to feel great and stay. I quickly took a few shots of the dining room and the beautiful decoration, before the wedding ceremony started on the pier.
We were lucky to have great weather for the outdoor ceremony with the Danube in the background. After the touching moments of the ceremony the invitees congratulated the newlyweds and at the same time I also took group photos.
Before dinner I moved with Elena and Alex to the nearby Florinsdorfer Wasserpark to take portraits of them in the park. The best man, best maid and a friend also escorted us to the photo shoot. Alex and Elena are a funny couple, they also used football flares to enrich the experience with colorful smoke. At this point the sun was setting down, we had to move back to the restaurant.
After the dinner Elena and Alex cut the cake, followed by Bulgarian rituals. Folk dancers surrounded the young couple who changed to traditional Bulgarian attires. It was a very unique wedding with a lot of happy and funny moments.

If you need a wedding photographer or filmmaker in Austria, please feel free to contact us.