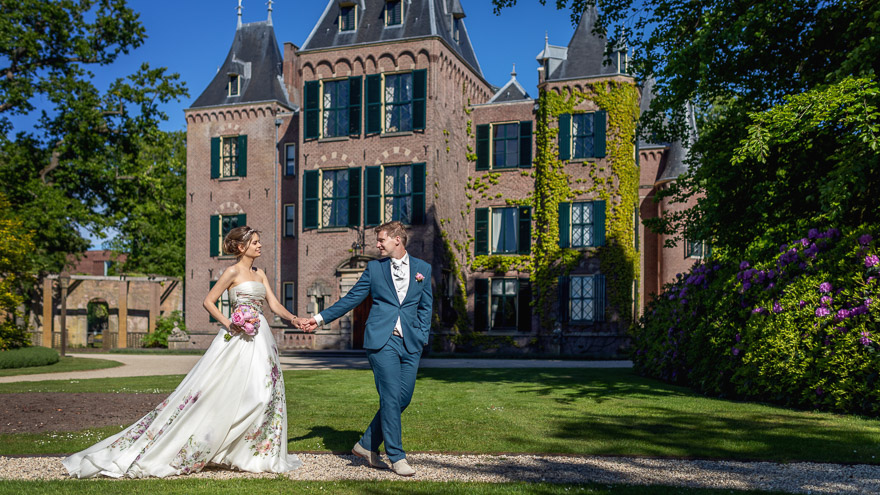 24 May

Castle Keukenhof Wedding | Lisse, The Netherlands | Vivien + Bryan

Just three weeks after shooting a Japanese pre-wedding in the Netherlands, I traveled back to the country to attend a truly international wedding. Vivien, the bride was from Hungary originally, while Bryan, the groom was Dutch. Their chosen wedding venue was Keukenhof Castle, a notable country house, which is also home to the famous Keukenhof Tulip Gardens. The castle was built in 1641, the estate is situated next to the town of Lisse in the western Netherlands.
I started with capturing the getting ready moments of Bryan and his friends on the ground floor of the castle, then I went upstairs to take photos of Vivien and her bridesmaids. Vivien had a beautiful Daalarna wedding gown from Anita Benes, a renowned Hungarian wedding dress designer. The flowery pattern of the dress well-suited the colorful, flowery environment of the castle.
The Dutch and Hungarian guests had been already waiting for the young couple outside at the ceremony location on the front lawn of the castle. The sun was high above the white gazebo, but fortunately it was windy and not too hot. After the ceremony, while the guests were chatting, I was taking a lot of family and group portraits. Soon afterwards we also did a quick wedding portrait session around the castle.
The evening meal took place in a renovated, moody barn. In the course of dinner we heard a lot of great stories from the friends of Vivien and Bryan, then the newlyweds cut the cake. After the dinner everyone moved to the neighboring building, the Grand Salon of the Coach House. The wedding DJ, Sander Treur played there music, the dance floor wasn't empty for a second. The mood was really great, everybody was dancing until closing.

If you need a wedding photographer in the Netherlands, please feel free to contact us.