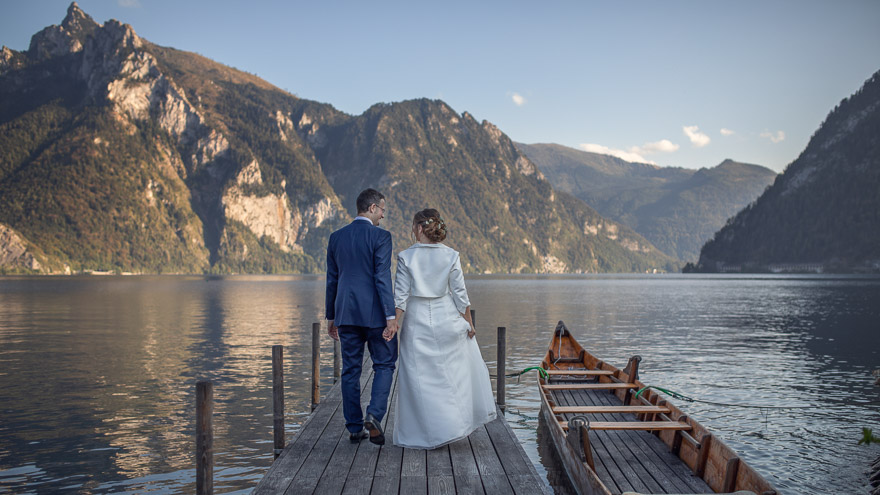 08 Sep

Klostersaal Wedding | Traunkirchen, Austria | Christine + Michael

Christine and Michael chose the Salzkammergut region of Austria for their wedding, a very scenic part of the Alps with towering mountains and gorgeous lakes. Their wedding took place in the municipality of Traunkirchen, on the shore of Austria's deepest lake, the Traunsee.
I took photos of Christine's getting ready moments in the Seehotel Das Traunsee, while having a beautiful view from the suite's balcony over Traunstein, the highest mountain on the east bank of the Traunsee.
Following the preparations, they had the civil ceremony in the monastery next to the hotel. Soon afterwards we had a short wedding portrait session nearby, before starting the religious ceremony in the parish church (Pfarrkirche). As an offbeat couple who love heavy metal music, they chose Metallica's Nothing Else Matters for wedding entrance music.
After getting married in the local church, the agape (reception) and cake-cutting took place outdoors in the Riedlpark am Traunsee. We also escaped for a short period and had a second portrait session by the lake, before the sun went behind the mountain. The dinner was held in the monastery's nicely renovated Klostersaal which served as a library for the Jesuits in the 17th century. The evening passed quickly and pleasantly, the atmosphere was really great. The young couple and the guests played a few games, as well, the DJ music was provided by Lewendi from Vienna.