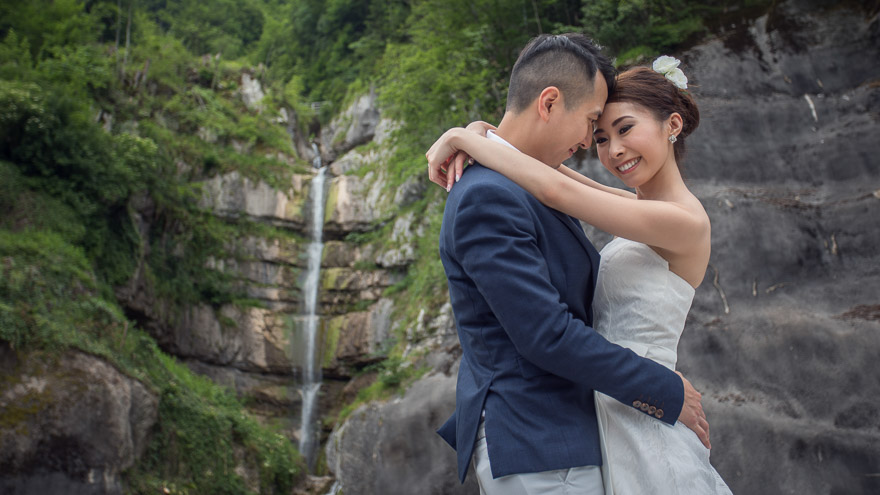 20 Jul

Pre-Wedding Photography in Switzerland

Switzerland, located in the heart of Europe, is a true gem that offers stunning scenery for pre-wedding photography. With its snow-capped mountains and glaciers, green meadows, woodlands, and turquoise lakes, Switzerland is a popular destination for couples from all over the world who wish to capture their love in this picturesque country. International weddings are also prevalent in Swiss cities such as Zürich, Geneva, Basel, Bern, Lasuenne, Lucerne, and Lugano. The Swiss countryside is especially suitable for pre-wedding photography due to its abundance of scenic locations. The excellent Swiss transport system makes it convenient to explore the best locations in the country.
Among the numerous picturesque locations, a few of the most ideal spots for pre-wedding photography include Lauterbrunnen, located in one of the most impressive valleys in the Alps, The Jungfrau Region, Chateau de Chillon, Lake Geneva and its surrounding cities, and Matterhorn, the famous peak in Zermatt.

Here are some of the best locations in Switzerland for pre-wedding photography:

Lake Geneva, located in the French-speaking part of Switzerland, offers stunning views of the Swiss Alps and the picturesque towns and villages that dot its shores. The lake is also home to the iconic Jet d'Eau fountain, which can serve as a dramatic backdrop for pre-wedding photos.
Lauterbrunnen Valley, situated in the heart of the Swiss Alps, boasts stunning waterfalls, alpine meadows, and dramatic mountain peaks. This location is perfect for couples who love outdoor adventure and want to capture the rugged beauty of Switzerland's natural landscapes.
Lucerne is a beautiful medieval city located on the shores of Lake Lucerne. The city's stunning architecture, including the Chapel Bridge and the Lion Monument, provides a perfect backdrop for pre-wedding photography. The lake and the surrounding mountains also offer breathtaking views.
Zermatt, located in the Swiss Alps, is a picturesque town that offers stunning views of the Matterhorn, one of the most iconic peaks in the world. Couples can take a scenic train ride up to Gornergrat for panoramic views of the mountain and surrounding glaciers.
Jungfraujoch is a mountain pass located in the Swiss Alps and is one of the highest points in Europe accessible by train. The location offers spectacular views of the surrounding mountains and glaciers, making it an ideal spot for pre-wedding photography.

When choosing a location for pre-wedding photography in Switzerland, it's important to consider the time of year and weather conditions. Switzerland experiences different weather patterns depending on the region and time of year, so it's essential to check the forecast and plan accordingly.

If you're looking for a pre-wedding photographer in Switzerland, be sure to check out my portfolio and contact me to schedule a session.