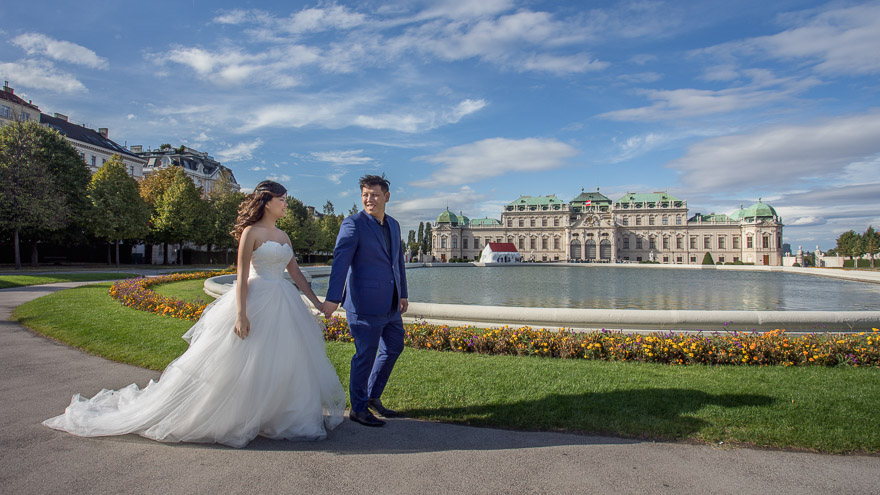 30 Mar

The Best Wedding Locations in Vienna

If you're dreaming of a perfect wedding, Vienna, the capital of Austria, might just be the ideal destination for you. Vienna is known for its rich history, stunning architecture, and romantic ambiance, making it the perfect destination for couples looking to tie the knot in a beautiful and unforgettable location. Whether you're looking for a grand palace, a picturesque garden, or a cozy café, Vienna has something to offer for every taste and style.
Hirschstetten Botanical Gardens (Blumengärten Hirschstetten) stands out as a top favorite locations for weddings. The park spans over 60,000 square meters and boasts an incredible variety of flora that provides a stunning backdrop for wedding ceremonies and photography alike. With a range of picturesque spots to choose from, you'll be spoilt for choice when it comes to selecting a location to exchange vows. From intimate garden gazebos to elegant glasshouses and pavilions, Hirschstetten Botanical Gardens offers something to suit every couple's taste and style. Additionally, the gardens provide ample opportunities for wedding portrait photography, with beautiful natural settings that perfectly capture the joy and romance of your big day.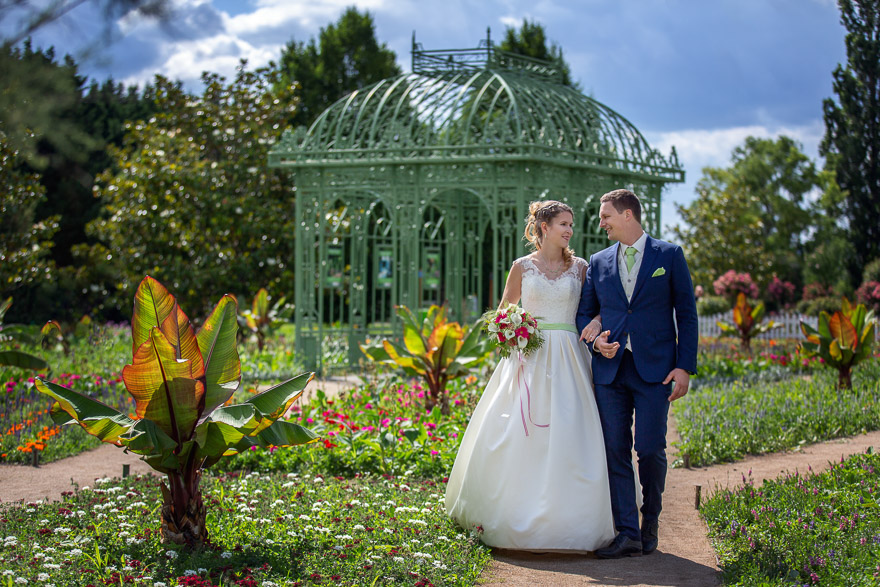 Hirschstetten Botanical Gardens | Photo: Weigert Images
For a taste of old-world romance and elegance in the heart of Vienna, look no further than Café Sacher. With its plush red velvet interiors, crystal chandeliers, and rich history dating back to the 19th century, this café is the ideal location for couples seeking a unique and unforgettable wedding experience. Whether you're looking for a cozy spot for an intimate ceremony or a grand setting for a lavish reception, Café Sacher offers a range of options to suit your needs. You can exchange vows in one of the elegant private rooms, enjoy a champagne toast with your loved ones in the iconic Blue Bar, or indulge in a decadent wedding cake made with the world-famous Sacher Torte recipe.
The Rathaus, or Vienna City Hall is a popular spot for civil weddings and offers a range of beautiful venues for ceremonies and receptions. The historic building boasts grand halls, elegant staircases, and beautiful gardens, making it a versatile and unforgettable location for your special day.
The beautiful Augarten Palace in Vienna's Second District offers a variety of settings for wedding ceremonies and receptions, from the elegant ballroom to the picturesque gardens. The palace also offers stunning views of the city, making it a popular spot for wedding photography.
For a unique and unforgettable wedding location with a view, look no further than the Danube Tower. This 252-meter-high tower offers panoramic views of Vienna and the Danube River, as well as a range of venues for wedding ceremonies and receptions.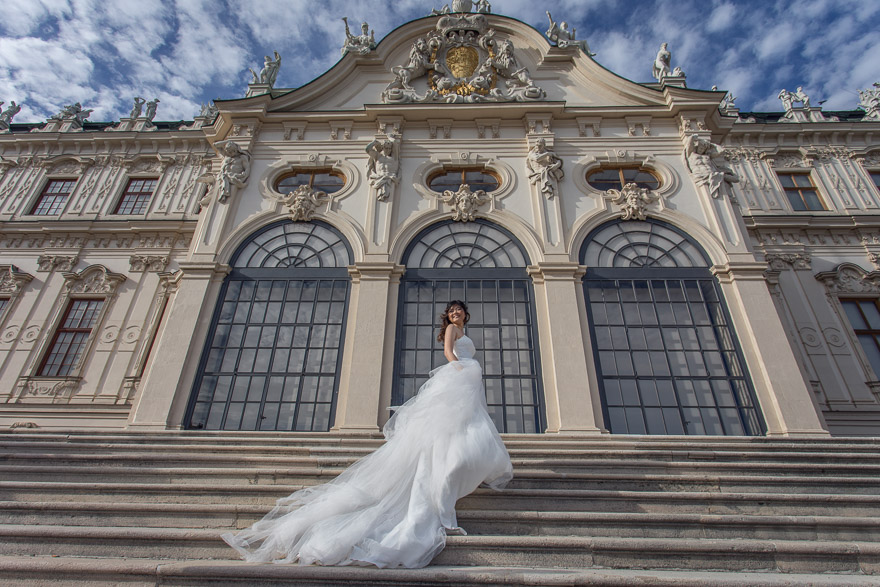 Belvedere Palace | Photo: Weigert Images
The baroque regal apartments of Belvedere Palace, its lush gardens and striking fountains offer a unique ambience to make your wedding an unforgettable experience for yourself and your guests. Both the civil ceremony (standesamtliche Trauung) and the church ceremony (kirliche Trauung) can be held at the Belvedere Palace, including your wedding dinner. The beautiful courtyard and gardens of the Belvedere Palace offer a great opportunity to make stunning wedding photographs and film.
Schönbrunn Palace (Schloss Schönbrunn), a UNESCO World Heritage site, boasts opulent interiors, extensive gardens, and a breathtaking view of Vienna from the Gloriette viewpoint. The Weißgoldzimmer (White Gold Room) on the ground floor of the Schönbrunn Palace offers place for smaller and larger civil ceremonies. The onetime private rooms of the imperial family with a view to the garden is an unforgettable setting for your wedding ceremony. The pompous, regal environment will make your wedding photographs really shine.
Vienna has no shortage of picturesque locations that can set the perfect stage for your wedding day. One such location is the Donauinsel (Danube Island), a small green island situated to the east of the city center. The island boasts scenic paths along the riverbank and sandy beaches, making it an ideal spot for an outdoor wedding ceremony. The serene environment also provides the perfect backdrop for capturing stunning natural wedding photographs.
If you're looking for a more grand and elegant venue, then the imperial Schmetterlingshaus (Butterfly House) is an excellent option. This beautifully designed greenhouse, located in Burggarten, was built in Jugend style and features an array of exotic flowers, tropical plants, and romantic waterfalls. It can accommodate up to 60 guests for a civil ceremony and reception, making it perfect for an intimate wedding celebration. Moreover, the unique and exotic ambiance of the Butterfly House is truly unparalleled, providing an exceptional backdrop for your wedding photography that is sure to be treasured for years to come.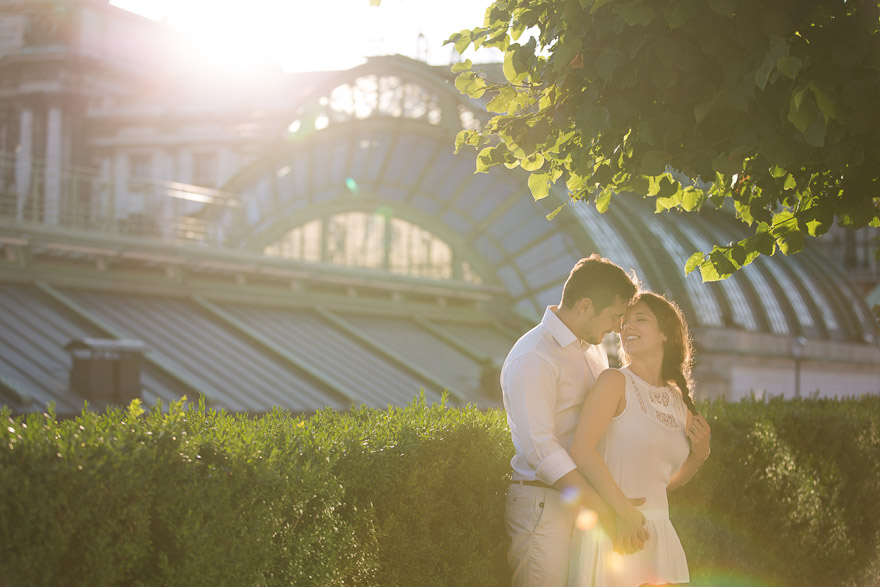 Schmetterlingshaus | Photo: Weigert Images
The fabulous Hofburg was the onetime centrum over the 600 year-long rule of the Hasburgs housing the imperial apartments and a treasury with huge, glittering rubies. This majestic palace in the heart of Vienna offers a range of venues for weddings, from grand ballrooms to intimate chapels. Whether you're looking for a lavish reception or a simple ceremony, Hofburg Palace has something to offer. The spacious halls of Hofburg are huge enough for civil ceremonies with up to 340 guests. You can even hold your wedding dinner here and the breathtakingly pompous architecture of Hofburg offers excellent opportunity for wedding photography and cinematography.
No matter which location you choose, Vienna offers a wealth of beautiful and unforgettable settings for your special day. And as a wedding photographer and filmmaker with experience shooting at these locations, I would be honored to help you capture the memories of your wedding day in Vienna that you'll cherish for a lifetime.
Would you like more info on our wedding photography and wedding cinematography services in Vienna and Austria? Please, feel free to contact us.