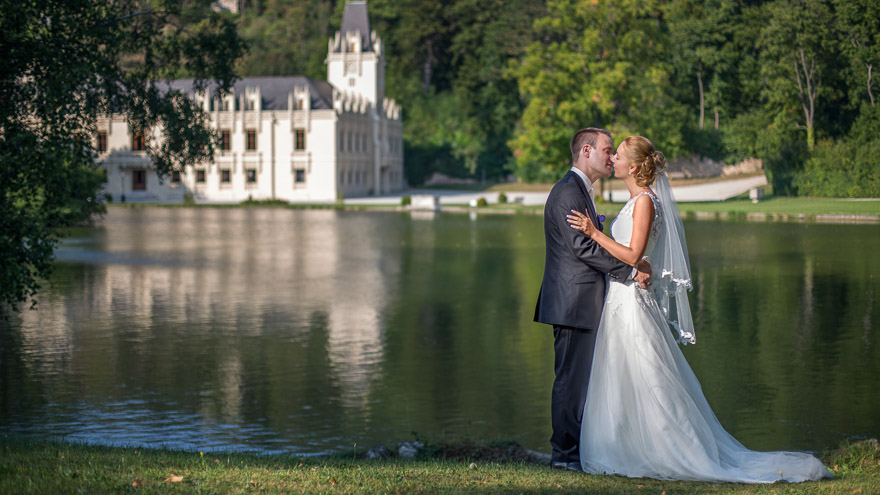 07 Apr

The Cost of a Wedding in Austria and Vienna

Austria has become a sought-after destination for international weddings, attracting more and more couples where at least one partner hails from abroad. From its majestic mountain peaks to its verdant meadows, serene lakes, charming villages, and rolling vineyards, this picturesque country offers a breathtaking backdrop for tying the knot. Not just the rural areas, but also the imperial city of Vienna is a prime choice for weddings, with its stunning old-city architecture, grand palaces, and lush parks
When planning your wedding in Austria, one of the initial questions that might come to mind is the cost involved, including vendor expenses such as photography, cinematography, and venue rental. Austria is a member of the European Union and living standard and price levels vary country by country in the EU, so do the cost of organizing weddings. But rest assured, hosting your wedding in Austria is not pricier than in any other Western European country.
The overall cost of your wedding will primarily depend on the size of your guest list. While a small, intimate affair for a dozen guests in Vienna or Austria could cost just a few thousand euros, larger celebrations could run into tens of thousands of euros.
In terms of venue rental, some locations, such as restaurants, might not charge any extra fee based on the revenue from your meal. On the other hand, if you opt for a more luxurious venue like Laudon Palace, Belvedere Palace (Schloss Belvedere), or Schönbrunn Palace (Schloss Schönbrunn), you can expect to spend between 800 and 3,000 euros to make it your wedding location.
Photo: Weigert Images
When it comes to catering, the cost per person for an 8-hour event can range from 100-350 euros when it's included in the venue rental. However, if the venue rental does not include catering, expect to pay anywhere between 80-250 euros for food and beverages. It's worth noting that on warmer days, drink consumption may increase, leading to higher bills.
When it comes to capturing your special moments, wedding photographers in Austria or Vienna usually charge between 1,200 and 2,500 euros for an all-day coverage (8-12 hours) with or without a wedding album, depending on the quality.
Wedding videography and cinematography generally have similar price ranges as wedding photography, with the added benefit of capturing your memories in motion. However, a high-quality wedding film may come with a slightly higher price tag due to the need for two cameramen and a more time-consuming editing process. If you're looking for an English and German-speaking photographer or cinematographer that offers great value, be sure to check our portfolio and contact us, Weigert Images.
Entertainment is a crucial aspect of your wedding celebration and hiring a talented band or DJ can make all the difference. On average, a DJ is less expensive than a band of three or four, which can cost around 1,800 euros.
For the bride, the wedding dress and shoes hold immense importance. While imported dresses from Asia or eBay may be more cost-effective, they often come with added expenses for alterations. A dress and shoes from Austria typically cost between 800 to 2,000 euros. The groom's wedding suit is slightly more affordable, with an average cost of 500 euros.
When it comes to wedding rings, the options are vast, and the sky's the limit, but expect to spend between 1,000 and 2,000 euros. Additional wedding jewelry may also add to the cost.
Flowers play a crucial role in setting the mood for your special day and the cost for adorning your venue with beautiful blooms ranges from 1,200-2,000 euros.
Your dessert table will be complete with a stunning wedding cake, costing between 500-1,200 euros.
For the ceremony, opt for a church service with music for around 300 euros, or a more intimate civil ceremony with costs ranging from 70-650 euros depending on the day of the week, location and musical arrangements.
Arrive in style by renting a luxurious wedding limousine or a romantic horse-drawn carriage (Hochzeitskutsche) for approximately 400 euros.
Invitations, place cards, and menu cards add an additional cost, starting at 500 euros. While going the DIY route is an option, sending an invitation via email may lack the elegance you desire.
Preparing for your big day includes the bride's beauty regime, with makeup and hairdressing costing between 250-800 euros in total.
For an international wedding, guests and family members may need to fly to Vienna, resulting in extra expenses for travel and accommodation.
Lastly, don't forget to budget for the honeymoon, which could cost anywhere between 1,000-5,000 euros.
With all these expenses, a wedding with 60 guests in Austria will cost anywhere from 10,000 to 20,000 euros, while a wedding with 120 guests at a fancy venue could cost between 30,000 and 50,000 euros.
On the bright side, you will also receive revenue in the form of gifts and donations from your guests. To ensure that your desired vendors are available, we recommend booking at least 9 months in advance.
Would you like more info on our wedding photography and wedding film services in Austria or Vienna? Please, feel fee to contact us.