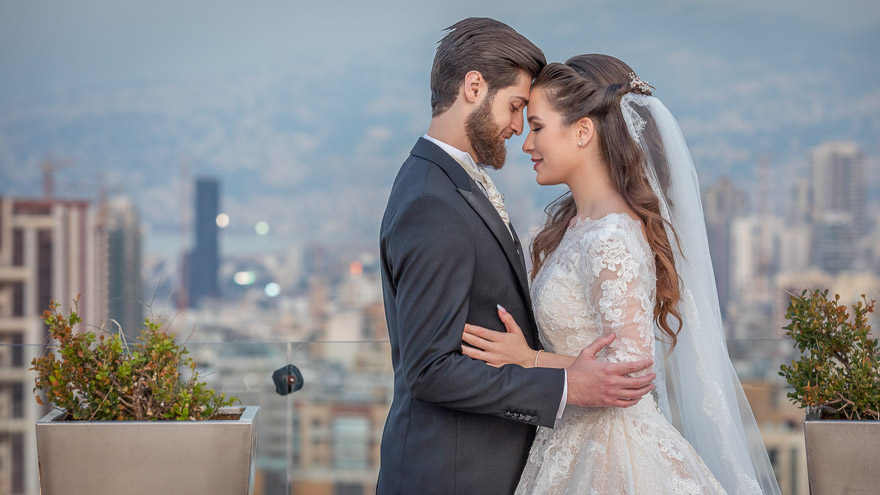 06 Jan

The Cost of a Wedding in Dubai and the UAE

The United Arab Emirates located on the Arabian Peninsula is made up of seven Sheikdoms (Emirates), with Dubai being the crown jewel and leading the way in catering to the increasing number of destination weddings taking place in the country.
With its all-year sunshine, gorgeous scenery that comprises of pristine beaches, jagged mountains, idyllic deserts and many exotic resorts ranging from Fujairah to Abu Dhabi, it's no wonder that the United Arab Emirates is emerging as a top place for destination weddings for international couples, with the UAE ranking among the top five wedding destinations for couples in Asia, Africa and the Middle East.
Thanks to luxurious and stately hotels in the Gulf country, the Emirates is the favored destination for weddings held in the Middle East. Since the UAE is also one of the most popular holiday destinations in the world, wedding guests can easily combine this wonderful occasion with a great holiday for themselves.
If your goal is a unique, luxury wedding destination, the UAE is a really fine choice. Some of the most prominent wedding venues are Royal Mirage One & Only in Dubai, the luxurious Emirates Palace in Abu Dhabi, the beachside resort Fairmont in Ajman, the Ritz-Carlton in Ras Al Khaimah and the Le Meridien in Al Aqah Beach Resort, Fujairah.
There has been a steady increase in the number of Dubai weddings during the recent years. Dubai is not only well-known for the number of famous attractions, lavish shopping opportunities and luxurious hotels, but it is located between Europe, Africa and Asia, making it simply accessible from anywhere in the world and offers great weather from October to May. The summer is extremely hot, but at least during this period venue rental is more affordable. Dubai with its unique Arabic charm, traditional heritage and modern vitality became an incredible location for international weddings.
In the Emirates most of the weddings take place in a hotel or resort due to strict alcohol licensing laws. You have the option to choose a beach resort, a downtown hotel with the view of Burj Khalifa or an exotic desert wedding in a traditional Bedouin camp. Interesting wedding venue options are the golf or polo club, too, and especially Abu Dhabi's Nurai Island which is a five star private island. All of these locations are allowed to serve alcohol. It is also a good option to organize a wedding in a private villa or on a yacht.
Photo: Weigert Images
Dubai is not the cheapest international wedding location: regular weddings cost 80,000- 120,000 USD, a realistic budget would be between 400 USD and 500 USD per guest. The avarage Emirati wedding costs 82,000 USD, while a western wedding is only around 20,000 USD since destination weddings in Europe and the USA are typically a small event attended by no more than 50-200 guests. Indian or Arab UAE weddings many times are attended by hundreds if not thousands of guests, however. Apart from the number of guests, your expenses will change with the seasons, as well, and will depend on many other factors.
Most European citizens, as well as Americans, Canadians and Australians don't need a UAE entry visa. For other countries it is easy to get a visa within just a couple of days by submitting the application with an airline or hotel.
The legal requirements of getting married in Dubai or the UAE might be quite convoluted, there are strict procedures to comply with and there is a lot of paperwork included, too. At least the bride or groom must have UAE residency to legally marry in the Emirates. Residents can get married at the Dubai Court or Abu Dhabi Judiciary, however non-Muslim couples are not allowed to marry in the Dubai Court. Non-Muslim residents can conclude marriage formalities in their embassy or at a temple or church of their religion. The marriage must also be registered in the embassies of both the bride and the groom in the UAE
It is good news, that if you are not able to meet the legal requirements, you can still hold a symbolic ceremony or a blessing conducted by a celebrant. A symbolic wedding would usually take place outdoors at daytime on a beach or in a garden. The cost of a symbolic ceremony including the fee of the celebrant is around 650 USD.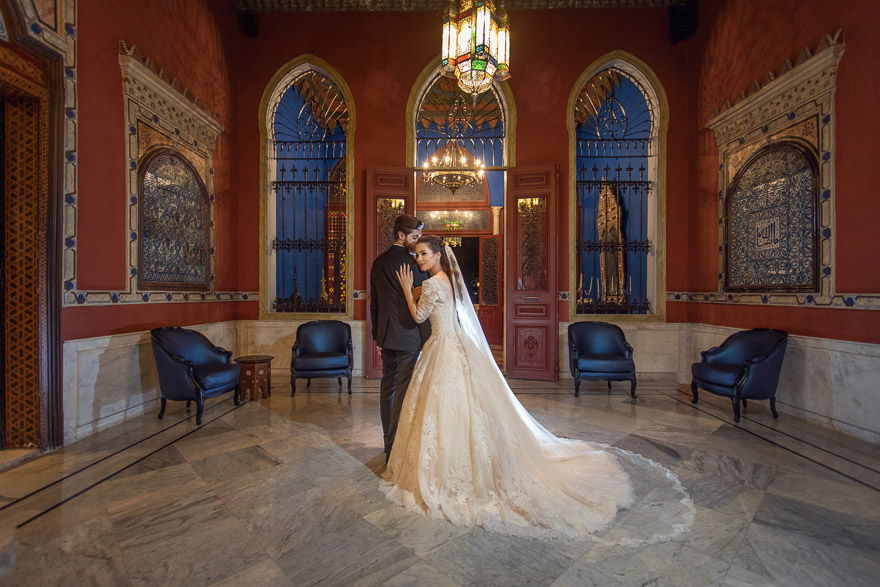 Photo: Weigert Images
The venue hire and the dinner costs you 85-150 USD per person in a five star hotel in Dubai and the UAE, the biggest chunk of your wedding budget. Some venues might charge an additional 6,000 USD or more for the ballroom rental, while other locations offer a package price above a required number of guests. You can save some money by organizing both your ceremony and the reception at the venue or choosing a weekday wedding. Buffet menu is less expensive than a set menu. Alcohol is very expensive in the UAE and you might easily spend 150 USD per person on beverages, thus it is financially less burdening to open a tab in the bar and pay for only what is consumed.
Many hotels offer a complimentary cake, too. Hotels always have basic furniture, but you also have to option to rent nicer ones and extra table top items from an external vendor. Hotels in the UAE usually offer a package price, where flowers, linen and stage décor are included in the price.
Floral budgets for high-end Dubai and UAE weddings might reach hundreds of thousands of dirhams, i.e. tens of thousands of dollars. Flower decoration, flower arrangements start at 1,500 USD for 20 guests but this cost can shoot significantly higher. Decoration for an average-sized western wedding starts at 7,000 USD. However, by choosing seasonal flowers or using prop-based décor you can save some dirhams.
Full day wedding photography packages start at 2,500 USD in Dubai and the UAE, ordering fine art albums might increase this price. Weigert Images also offers wedding photography services in Dubai and the Emirates at really great rates, please check our portfolio and feel free to contact us.
Wedding cinematography prices in Dubai are similar to wedding photography prices, starting at 2,500 USD, but having two or more cameramen on location will be more expensive. Please, feel free to contact us if you need cinematographer(s) in Dubai, Abu Dhabi or the UAE.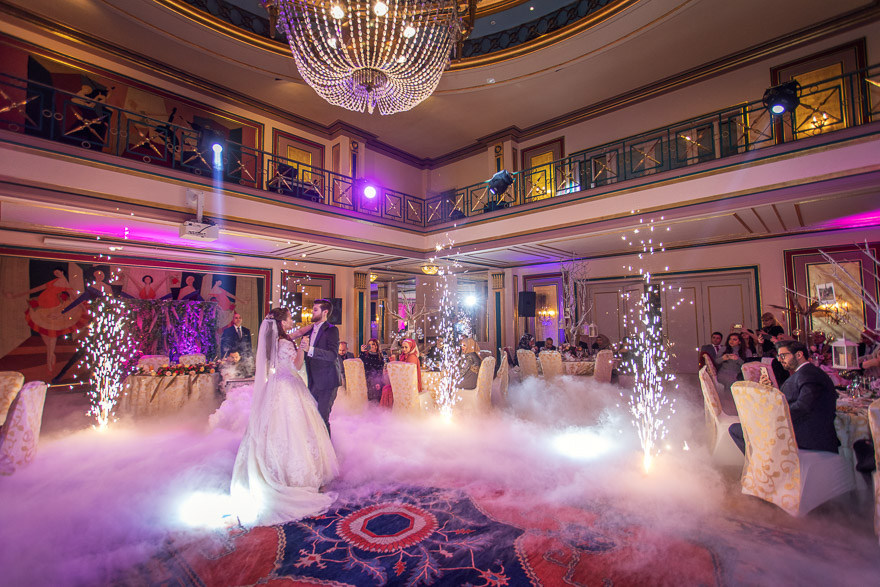 Photo: Weigert Images
A basic wedding dress in Dubai without any frills or embroidery will cost you at least 2,500 USD, the sky being the limit with designer wedding dresses. The groom's suit and accessories are fortunately less expensive, but you have to spend at least 1,000 USD here. Morning suits are not essential, it is the best to choose an elegant suit that you can use later.
Wedding makeup and hair costs 750 USD on the average in Dubai the UAE.
You might also spend 800 USD – 10,000 USD on wedding jewelry depending on your budget, brand and style preferences. The limit of your spending is only the sky here.
Hiring a wedding DJ in Dubai and the Emirates is definitely more affordable than a live music band, it will cost you around 1,400 USD. Hiring a local band or live orchestra will set you back with another 4,000 USD.
Renting an oldtimer, like a Bentley with a driver is 250 USD an hour, for a minimum of three hours, including a driver. There are more expensive alternatives, too, of course.
Finally, you shouldn't forget about the accommodation for yourselves and your guests. 5 star hotels offer rooms between 200 USD and 350 USD on the average during the wedding season.
Would you like more info on our wedding photography and wedding film services in Dubai, Abu Dhabi and the Emirates? Please, contact us on this website.