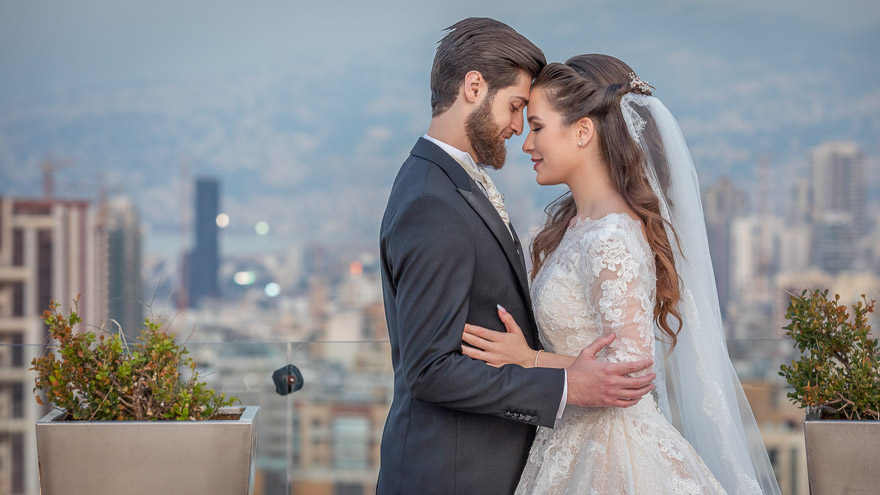 06 Jan

The Cost of a Wedding in Dubai and the UAE

The United Arab Emirates, nestled on the Arabian Peninsula, is a vibrant hub of seven Emirates, with Dubai taking the lead as a premier destination for weddings. With its all-year sunshine, gorgeous scenery that comprises of pristine beaches, jagged mountains, idyllic deserts and many exotic resorts ranging from Fujairah to Abu Dhabi, it's no wonder that the United Arab Emirates is emerging as a top place for destination weddings for international couples, with the UAE ranking among the top five wedding destinations for couples in Asia, Africa and the Middle East.
As one of the most popular tourist destinations in the world, the Emirates boasts a plethora of luxurious hotels and stately venues, making it a favored location for weddings in the Middle East. Couples and their guests can relish the opportunity to celebrate their special day while also taking in all the wonders the UAE has to offer.
If you're searching for a unique and indulgent destination wedding, the UAE is a fantastic option. Some of the most prestigious wedding venues in the country include the Royal Mirage One & Only in Dubai, the opulent Emirates Palace in Abu Dhabi, the seaside Fairmont Resort in Ajman, the Ritz-Carlton in Ras Al Khaimah, and the Le Meridien in Al Aqah Beach Resort, Fujairah.
Dubai has seen a steady rise in the number of destination weddings in recent years. This cosmopolitan city is famous for its world-renowned attractions, lavish shopping, and opulent hotels, and its location at the crossroads of Europe, Africa, and Asia makes it easily accessible from anywhere in the world. With a desirable climate from October to May, Dubai is a unique blend of Arabic charm, traditional heritage, and modern energy that makes it an ideal location for international weddings.
Due to strict alcohol licensing laws in the Emirates, most weddings take place at hotels or resorts. Couples can choose from a range of venues, such as a beach resort, a downtown hotel with a view of the iconic Burj Khalifa, or an exotic desert wedding in a traditional Bedouin camp. For a more unique experience, consider hosting your wedding at a golf or polo club, or on Abu Dhabi's private Nurai Island. Private villas and yachts are also popular options for weddings in the UAE.
Photo: Weigert Images
Planning a wedding in Dubai can be both exhilarating and overwhelming, as the costs can quickly add up. On average, a wedding in Dubai can cost anywhere from 25,000 USD to an eye-watering 80,000-120,000 USD. However, the price tag can vary greatly based on the size and type of wedding. A traditional Emirati wedding, for instance, is typically more lavish and costs an average of 82,000 USD, while a Western wedding is more modest, with an average cost of 30,000 USD. Smaller, more intimate Western destination weddings typically have guest lists that hover around 50-200 guests, while grand Indian or Arab weddings in the UAE can often boast hundreds or even thousands of attendees. Keep in mind that expenses will vary based on not just the number of guests, but also seasonal fluctuations and a multitude of other factors.
Getting married in Dubai also comes with its own set of legal requirements, and navigating through them can be a daunting task. But rest assured, obtaining a UAE entry visa for citizens of Europe, America, Canada, and Australia is a breeze, while for others, a visa can be obtained within just a couple of days with the help of an airline or hotel.
When it comes to tying the knot, at least one of the partners must have residency in the UAE. Non-Muslim couples, however, are not allowed to get married in the Dubai Court, and must instead conduct the formalities in their respective embassies, temples, or churches, followed by registering the marriage in both the bride and groom's embassy in the UAE.
If meeting the legal requirements proves to be a challenge, there is always the option of having a symbolic ceremony or a blessing, conducted by a celebrant. A symbolic wedding is typically held outdoors during the day and can take place on a beach or in a garden, with an average cost of 650 USD, including the celebrant's fee.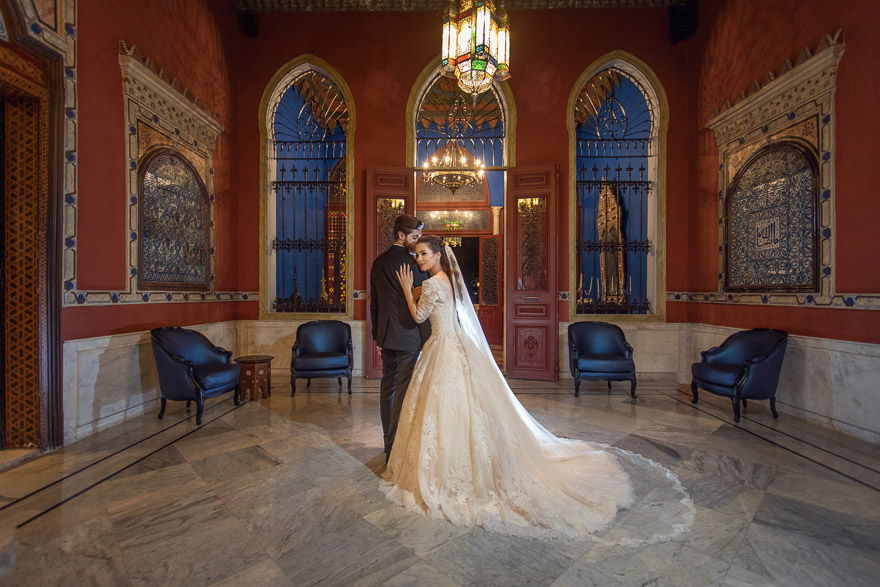 Photo: Weigert Images
The cost of your wedding in Dubai and the UAE is significantly influenced by venue and dining expenses, which can average anywhere between 100 USD to 180 USD per person in a five-star hotel. Some venues may even charge an additional 6,000 USD or more for ballroom rental, while others offer package prices based on a required minimum number of guests. Opting for a ceremony and reception at the same venue or choosing a weekday wedding can help you save some money. While a buffet menu is more economical than a set menu, alcohol prices in the UAE can quickly add up, with an average of 150 USD per person for beverages. To minimize this cost, it may be wise to open a bar tab and pay only for what is consumed.
Many hotels offer complimentary cakes, but you may also opt to rent nicer furniture or additional table top items from an external vendor. Package prices in the UAE typically include flowers, linen, and stage decor. For high-end weddings, floral budgets can reach hundreds of thousands of dirhams, while flower decoration, flower arrangements start at 1,500 USD for 20 guests. The cost of decorating an average-sized western wedding starts at a minimum of 7,000 USD. However, by choosing seasonal flowers or using prop-based décor you can save some dirhams.
Wedding photography packages in Dubai and the UAE start at 2,400 USD, with the option to add fine art albums, while wedding cinematography prices are similar, starting at 2,500 USD. If you desire more than one cameraman on location, you can expect the cost to increase. If you're looking for photography and cinematography services in Dubai, Abu Dhabi, or the UAE, Weigert Images is available to offer its services at great rates. Feel free to check our portfolio and contact us for more information.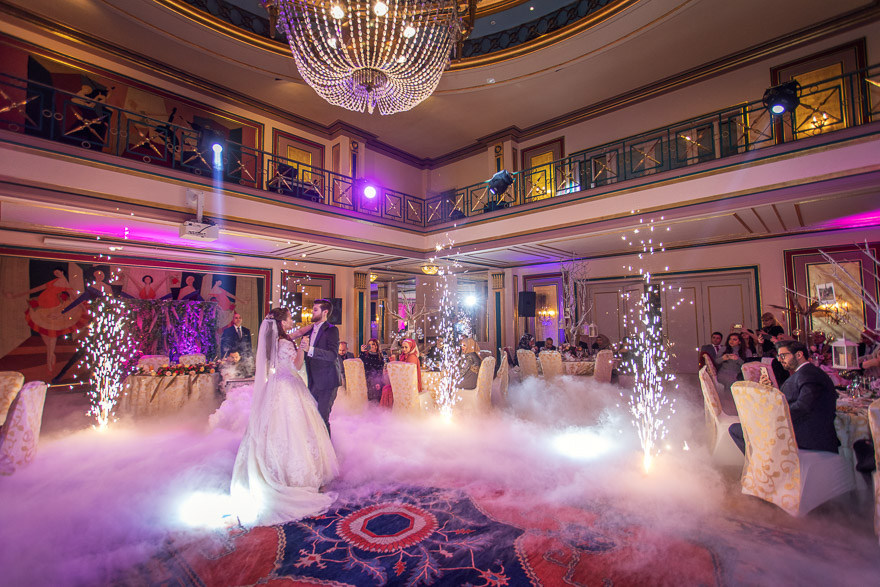 Photo: Weigert Images
For the bride, a simple gown without any elaborate embroidery will cost a minimum of 2,500 USD. However, the sky is truly the limit when it comes to designer dresses. The groom's attire is comparatively more affordable, with a budget-friendly option starting at 1,000 USD. Opt for an elegant suit that can be reused for future events, instead of a traditional morning suit.
Makeup and hair styling for the bride will set you back by an average of 750 USD. The cost of jewelry varies widely, from 800 USD to 10,000 USD, depending on your personal taste, brand preferences, and budget.
For music, hiring a DJ is a more economical option, with prices starting at 1,400 USD. On the other hand, a live band or orchestra will cost upwards of 4,000 USD.
Renting a classic car like a Bentley, complete with a driver, starts at 250 USD per hour, with a minimum booking of three hours.
Finally, don't forget to budget for accommodation for both you and your guests. Average room rates in 5-star hotels during the wedding season range from 200 USD to 350 USD.
For more information on our wedding photography and cinematography services in Dubai, Abu Dhabi, and the UAE, please don't hesitate to contact us.