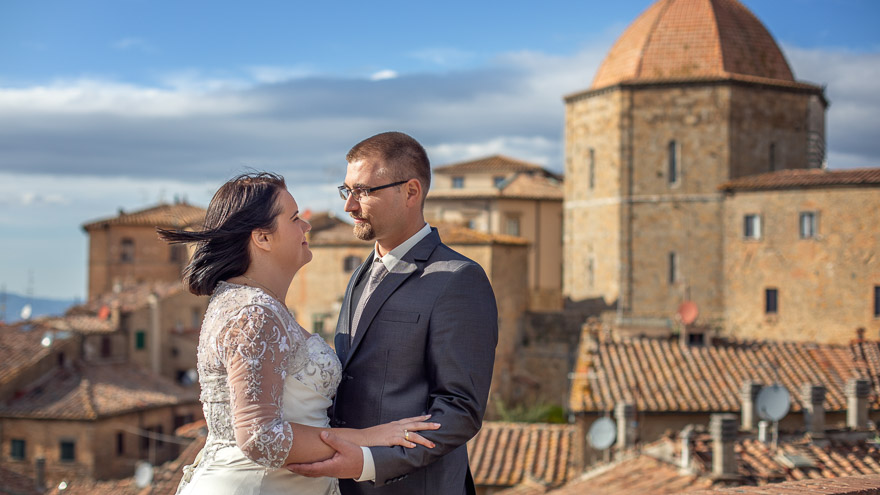 04 Nov

Volterra Pre-Wedding Photography | Tuscany, Italy | Adrienn + Laszlo

Last year I visited the family estate Podere Marcampo in Volterra, Italy for a wedding, which was organized by a wedding planning company called My Dream Tuscan Wedding. You can see the photos of that wedding here.
Adrienn and Laszlo held the wedding ceremony in Hungary with their families and decided to spend a week in Tuscany, combining their honeymoon with a wedding portrait session. Adrienn and Laszlo saw my wedding images from last year by browsing the wedding planner's Facebook page and they decided to travel from Hungary to Italy. They hired me for a pre-wedding photo shoot at the same gorgeous location, with the help of My Dream Tuscan Wedding. I gladly said yes to take their wedding photos at Podere Marcampo and in Volterra. This time it was October instead of July and the landscape was a lot greener, the colors were more vibrant than during the arid summer.
We started at the Del Luca family estate, Podere Marcampo, which is a nice hilltop villa with vineyards, lined by cypress trees. After capturing some getting ready moments we headed outside. The sky was still cloudy with a chance of rainfall but we were lucky to have dramatic stormy clouds on the sky without getting wet.
After a short photo session we traveled to the neighboring Volterra, which is a walled hilltown in the Tuscany region of Italy. Its history dates from the 7th century BC and it has buildings from the Etruscan, Roman, and Medieval ages of history. Volterra's moody streets with rustic vitality proved to be an ideal location for taking pre-wedding photos.
Just before sunset we left Volterra and drove back to Agriturismo Podere Marcampo to capture more photos before the sun reached the horizon. Some of these images were the moodiest shots, all of us were very satisfied with the results.
If you need a wedding photographer or help with planning your wedding in Tuscany, please feel free to contact us.