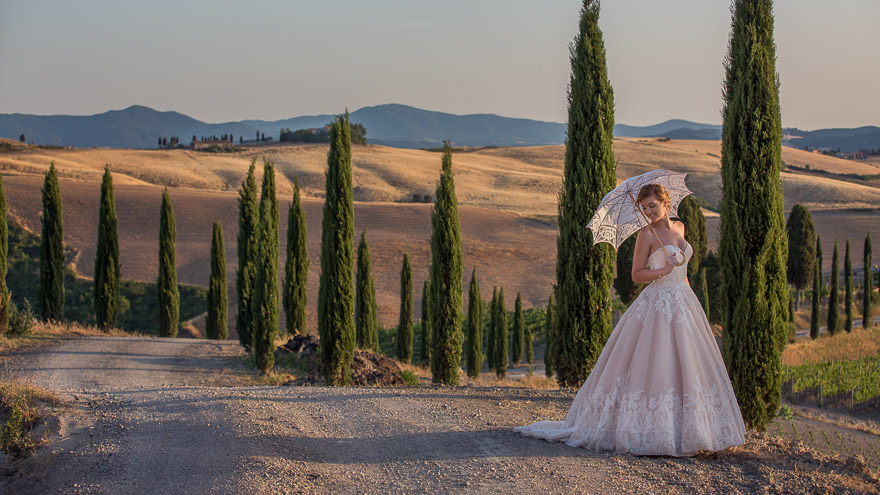 07 Jul

Agriturismo Podere Marcampo Wedding | Volterra, Tuscany, Italy | Hedi + Zoltan

After completing a pre-wedding photo session in Florence and the neighboring areas (you can view the photos here) , the day of the ceremony finally arrived! The location was Agriturismo Podere Marcampo, a beautiful estate close to Volterra, owned by the Del Duca family. The cozy country house at Marcampo accommodates the winery, family quarters, guest rooms and apartments. Marcampo's vineyards produce the family's own, award winning wine. The wedding was perfectly organized by two local wedding planners – we can give you their contact details if you want to reach them.
Hedi took her beautiful grey wedding dress, which is a sight to behold itself. Zoltan wore a stylish, elegant blue suit, including a hat. The ceremony took place on the terrace outdoors, with the marvelous landscape of Tuscany stretched behind the wedding party. After the guests congratulated the newlyweds, we made some group photos and started to take wedding photos in the sunset. The timing and location was perfect, a picturesque sight unfolded in front of my eyes as the young couple walked along the gravel road leading to the country house, lined by cypress trees. Hedi also had a white umbrella, which seamlessly fit into the environment and perfectly matched her wedding dress. As the sun went down, we headed back to the reception in the backyard, where nicely set tables waited for us with vintage-styled decoration. The night was spent in an elevated mood, the guest could enjoy the delicious food and wine made by the Del Duca family. Cutting the wedding cake and releasing the Chinese lanterns into the pool's water were also great moments of the night.