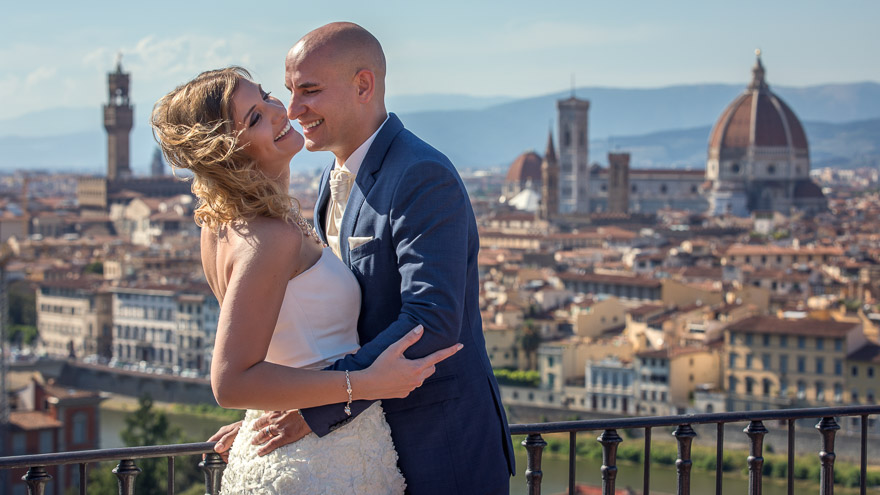 06 Jul

Florence, San Gimignano Pre-Wedding Photography | Tuscany, Italy | Hedi + Zoltan

Hedi and Zoltan are from Budapest, Hungary but they planned to hold their dream wedding in the beautiful Tuscany of Italy. They organized the wedding ceremony for Friday, thus the previous day we held a pre-wedding photography session in Florence and its neighboring areas in Tuscany. We were awe-struck by the magnificent architecture of Florence, especially the Florence Cathedral, which is located at Piazza del Duomo, a huge square. The temperature was extremely hot, around 35 Celsius degrees and the square was packed with people. It was an enormous task to take great wedding photos in such an overcrowding, but I was lying on the burning stone floor and successfully shooting upwards, thus eliminating the undesirable people in the frame. We walked the streets of Florence, taking photos everywhere, including the famous Ponte Vecchio (Old Bridge), then finally we drove to Piazzale Michelangelo (Michelangelo Square) on the Michelangelo Hill to have the best view of Florence and some of the best wedding photos.
We left Florence in the afternoon and drove to San Gimignano, the Town of Fine Towers, which is famous for its medieval architecture and tower houses on a hilltop. We left the town and looked for vineyards nearby to have the town and its towers in the background of our wedding images. Afterwards we moved on and took several photos in the classical Tuscany landscape before finishing the day. We got tired, but we successfully created a nice variety of wedding photos in Florence and Tuscany.
Please see part two, you can view the photos of the actual wedding day here.