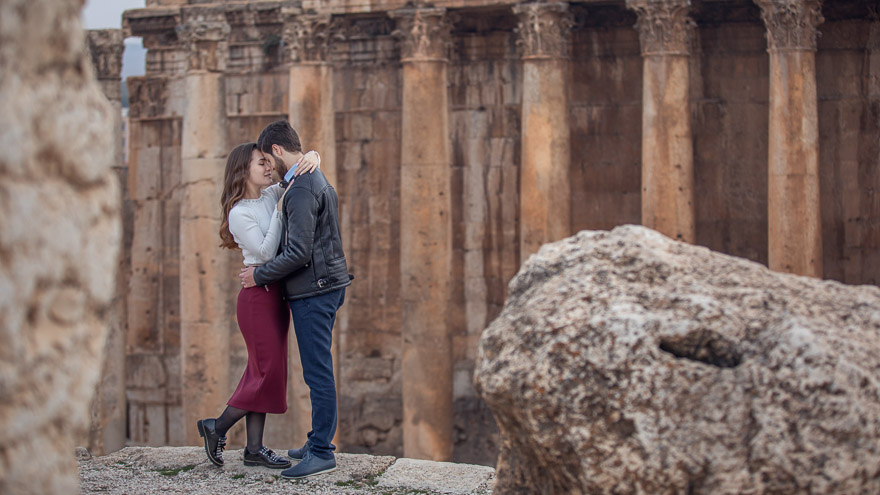 16 Nov

Baalbek Engagement Photography Session | Lebanon | Caroline + Malik

I traveled to Lebanon to shoot the wedding of Caroline and Malik and we also planned an engagement photography session in Baalbek, amongst the famous monuments. Baalbek (or Baalbeck), Lebanon's most famous Roman treasure is one of the wonders of the ancient world.
You can find the largest Roman temples there, which are also very well preserved. Baalbek is located in the Beqaa Valley, at the crossroads of two main historic trade routes: one between the Mediterranean coast and the Syrian mainland and the other one between northern Syria and northern Palestine.
The city is located 85 kilometers from Beirut, we traveled first to Baalbek's downtown by taxi to leave our luggage at a hotel. After checking in we drove to the archeological site. It was already sunset, we didn't have much time to finish our photo session.
We started at the Great Court, which was constructed in the 2nd century. The entire Court was enclosed by a succession of rectangular and semi-circular exadrae (recesses) decorated by niches which originally contained statues.
On the next photos you can see the Temple of Bacchus in the background. Built in the 2nd century, it has been remarkably well preserved. The temple was consecrated to a mysterious cult centered around the young god of Baalbeck. This god was a solar deity, whose birth and growth promised regeneration and eternal life to the devoted. Thirty-three steps lead up to the entrance of the temple, where the ornate interior offers one of the most captivating sights of Baalbek. We took photos at the entrance and on the steps, too, but by this time darkness fell upon us and we have to leave the area.
We had a short amount time only and still it was an uplifting experience to take engagement photos at the magnificent acropolis of Baalbek.

You can also see here the wedding photos of Caroline and Malik in Beirut.