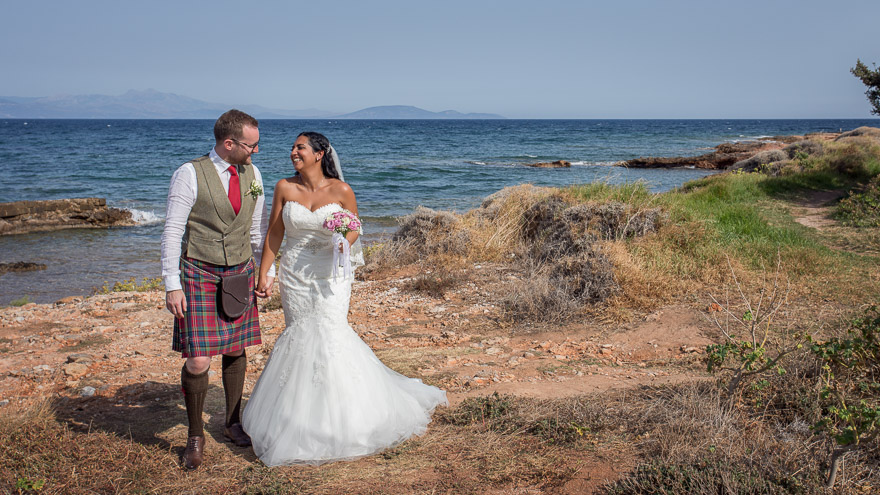 28 Apr

The Cost of a Wedding in Greece, the Land of Light

Greece, the land of the azure blue Mediterranean, mystic beauty, stunning ruins and moody coastline villages is a highly coveted destination for international weddings. With its warm and inviting Mediterranean climate, the country's unspoiled beaches and quaint coastal villages are a delightful addition to the already awe-inspiring scenery. As the birthplace of legendary tales, the modern alphabet, and the earliest forms of democracy, Greece's ancient history comes to life, particularly in the bustling capital of Athens.
Greece remains one of the most popular wedding destinations in Europe since it has a unique southern atmosphere. Getting married on a beach next to the deep blue sea, surrounded with breathtaking scenery is considered by many the ultimate ceremony.
For those seeking an unforgettable wedding experience, getting married amidst the stunning surroundings of the Aegean Sea is the ultimate dream come true. A destination wedding in the idyllic and romantic islands of Crete or Santorini offers breathtaking sunsets and a picturesque Greek holiday. Meanwhile, Athens, renowned for its iconic Acropolis and lively markets, cafes, and shopping, adds a touch of energy and excitement to your special day.
Greece's popularity as a wedding destination continues to thrive, as it offers a unique and affordable option compared to many other Western European countries such as Italy and the United Kingdom. Say "I do" in the land of azure blue waters and timeless beauty and create memories to last a lifetime.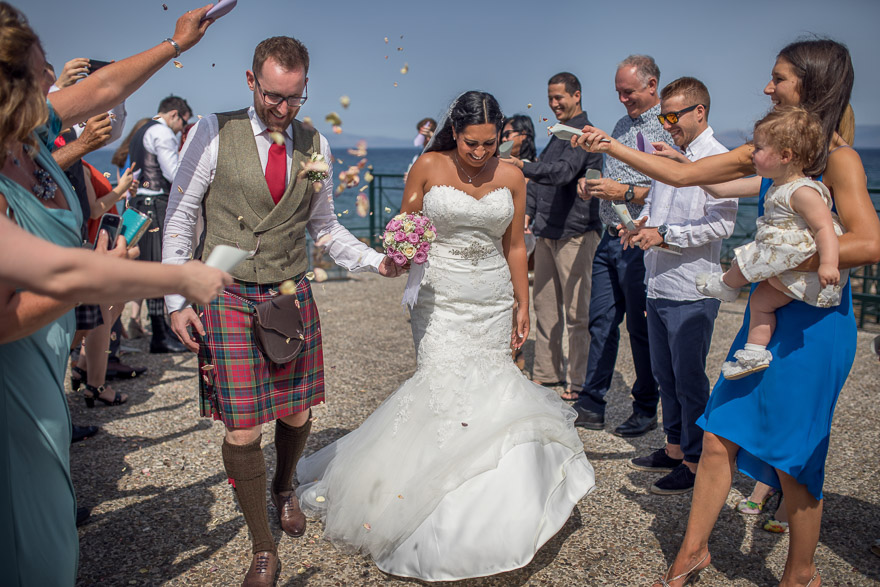 Photo: Weigert Images, you can view the whole series here.
Greece is a land of breathtaking beauty, offering the perfect setting for a magical wedding celebration. With both civil and religious ceremonies legally recognized, couples have the option to choose which one best suits their needs. Some opt for a legal ceremony in their home country, followed by a symbolic one in Greece, while others choose to go through the paperwork process in Greece itself.
If you're planning to tie the knot in Greece, be sure to have your passports, birth certificates, and other required documents in hand, including a marriage license application and a single status form. A wedding notice must also be published in a local newspaper eight days prior to the big day
The cost of a civil wedding in Greece can range from 400 to 550 euros, including the cost of various documents, translation fees, and an affidavit of marriage. On the other hand, a religious ceremony can be a more elaborate affair, with costs ranging from 100 to 700 euros, depending on the level of decoration desired.
When it comes to wedding invitations, couples have the option to spend between 300 and 700 euros, depending on paper quality and materials, or they can opt to print their own to save some money. Lastly, wedding favors, which serve as a memorable token of appreciation for guests, can range from 1 euro per person and up, or they can be made by hand for a more personal touch.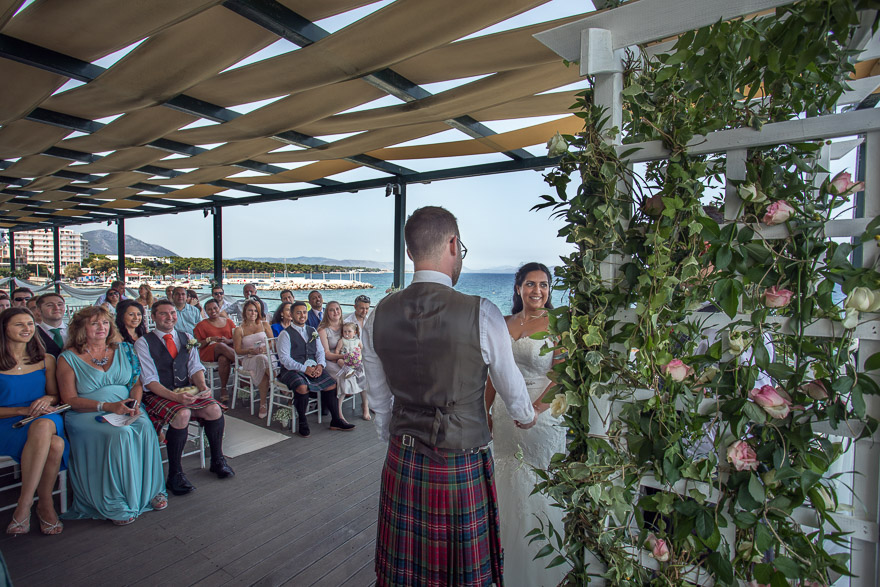 Photo: Weigert Images, you can view the whole series here.
In choosing the perfect wedding dress, skin tone is a crucial factor. Brides with cool skin tones are best complemented by dresses in cool white, pure white, silver white, or pale pink. Those with warm skin tones, on the other hand, shine in champagne, soft ivory, camel, ecru, and earthy colors. The cost of renting a wedding dress in Greece varies from 500 to 2,500 euros, but if you'd like to keep it as a keepsake, expect to spend anywhere from 1,300 to 8,000 euros. To save, consider purchasing a dress during the November bazaar, where prices can drop as low as 300 euros, or visiting a fabric market and hiring a local seamstress.
The groom should coordinate with the bride's dress and a suit can be found starting at 300 euros. On average, a full suit, shirt, tie, shoes, socks, and cufflinks will run between 800 and 1,500 euros.
Hair and makeup costs 200 to 700 euros each, with the option of adding a beauty treatment for an additional 50 to 150 euros.
For capturing your special day, wedding photography and videography prices in Greece start at 1,000 euros, with an average cost of 1,800 euros. If you're looking for modern cinematography, expect to pay as much as 3,000 euros. The price also depends on the included extras (length of shooting, engagement session, albums, etc.) If you're interested in affordable, high-quality wedding photography or cinematography, please check our portfolio and feel free to contact us.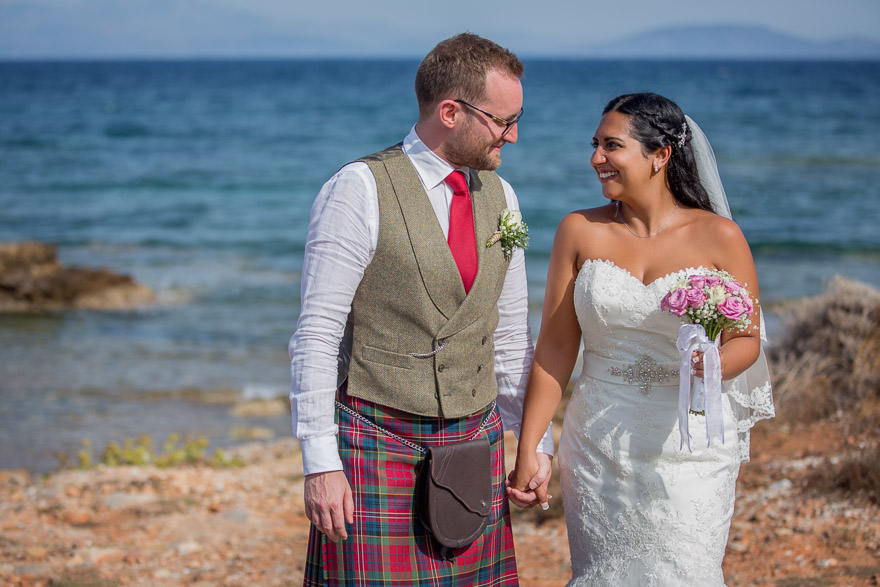 Photo: Weigert Images, you can view the whole series here.
The cost of wedding decorations and flower arrangements ranges from 500-3,000 euros, with prices dependent on the type of blooms you opt for and the theme of your nuptials. You can expect to spend anywhere from 400-1,500 euros for church flowers, 80-100 euros for the bridal bouquet, and a touch of extra for the car décor.
For music lovers, live musical entertainment is a must! Whether you prefer an orchestra or a band, you can expect to pay between 1,000-1,500 euros, while a professional DJ will set you back 500-2,000 euros. The reception is often the largest chunk of your wedding budget, with catering costing 40-120 euros per person. Venues can range from 1,500-5,000 euros, based on the number of guests, menu, and location.
Once the big day is over, it's time to kick back and enjoy a well-deserved honeymoon! Greek islands are a popular choice for many newlyweds, with costs ranging up to 3,000 euros for two people. But, for those seeking a bit more adventure, exotic destinations such as Bali, Cuba, and Jamaica may cost up to 2,000 euros per person.
If you're looking for the perfect photography and film services for your Greek wedding, look no further than Weigert Images. Please, feel free to contact us.