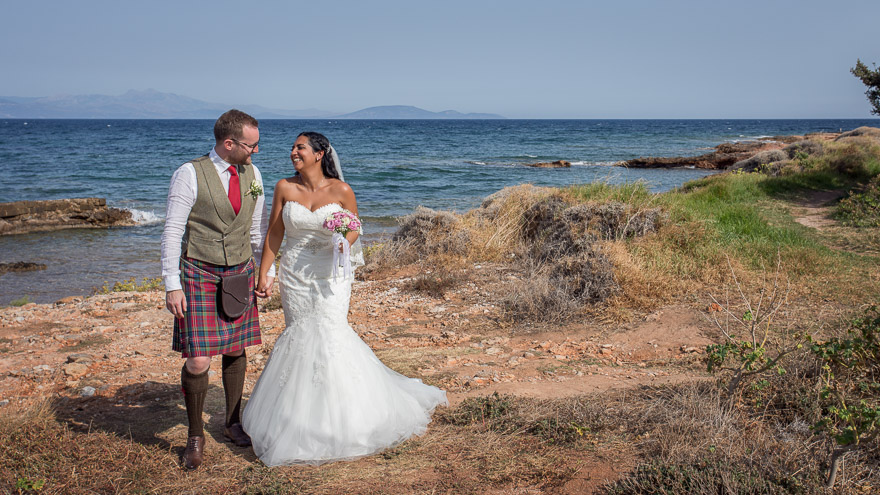 28 Apr

The Cost of a Wedding in Greece, the Land of Light

Greece, the land of the azure blue Mediterranean, mystic beauty, stunning ruins and moody coastline villages is a much favored destination for international weddings. The country has a welcoming Mediterranean climate, which makes the miles of its unspoiled beaches and coastal villages all the more enjoyable. Greece is the birthplace of colorful legends, the modern alphabet and early democracies. The ancient history is still alive, especially in Athens, the capital city.
Greece remains one of the most popular wedding destinations in Europe since it has a unique southern atmosphere. Getting married on a beach next to the deep blue sea, surrounded with breathtaking scenery is considered by many the ultimate ceremony.
A destination wedding in Crete or Santorini offers you an idyllic and romantic Greek holiday with breathtaking sunsets, while Athens, the city of the most visited ruin, Acropolis, is especially loved for its bustling markets, moody cafes and excellent shopping opportunities.
The country is also loved as a wedding destination because it's much more affordable to organize an international wedding in Greece than in many other Western European countries, like Italy or the UK.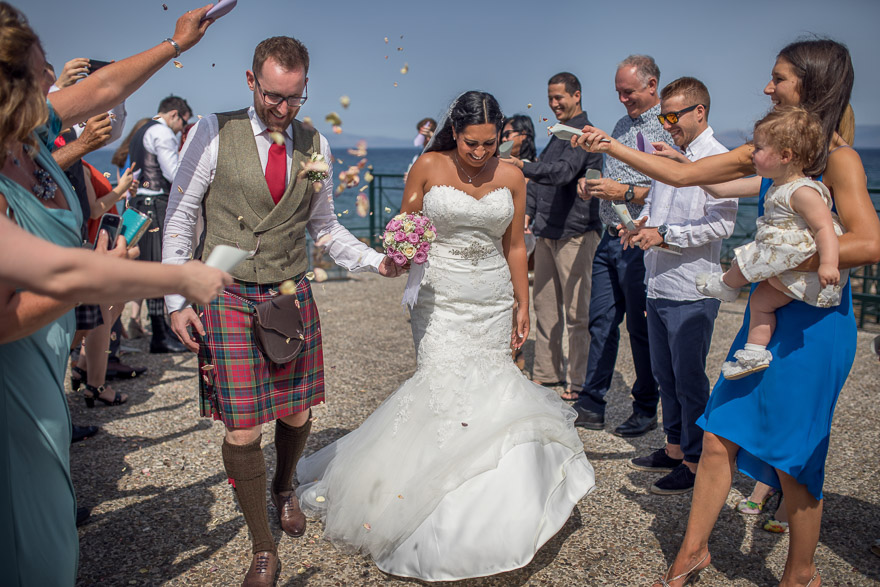 Photo: Weigert Images, you can view the whole series here.
Civil and religious ceremonies are equally legal in Greece. You can do both if you wish but need to do only one by law. Foreign couples often have a legal ceremony at home and follow it with a symbolic one in Greece as paperwork might take months.
If you would like to get married in Greece, you will need your passports along with birth certificates (copies), marriage license applications and single status forms. A wedding notice must be published in a local newspaper eight days before your wedding.
But how much does it cost to organize a wedding in Greece?
A civil marriage in Greece should normally cost 15 euros, however each municipality has its own tariff by charging extra for the celebration. This extra charge for the civil marriage varies from region to region in Greece and it is determined between 40 and 150 euros, however decoration is not included in the price. For example in Athens the cost of civil marriage is 75 euro for citizens and 100 euro for non-citizens. Civil marriage is free in Thessaloniki and Nea Filadelfia, while we can find the highest fees in Crete (100-150 euros).
Religious ceremony is certainly more impressive and the best choice for religious couples. However it entails a much higher expenditure and the organization is very tedious and time-consuming. A church ceremony might cost you 50-600 euros without decoration.
Wedding invitations help you determine, how many guests will eventually come to your wedding. Depending on paper quality and materials wedding invitations start from 80 cents and can go as high as 5 euros per piece in Greece. Of course you can also save some money by printing your own invitations for the wedding.
Wedding favors, the small gifts you might give to the guests as a souvenir start from 70 cents but of course you can also create them yourself.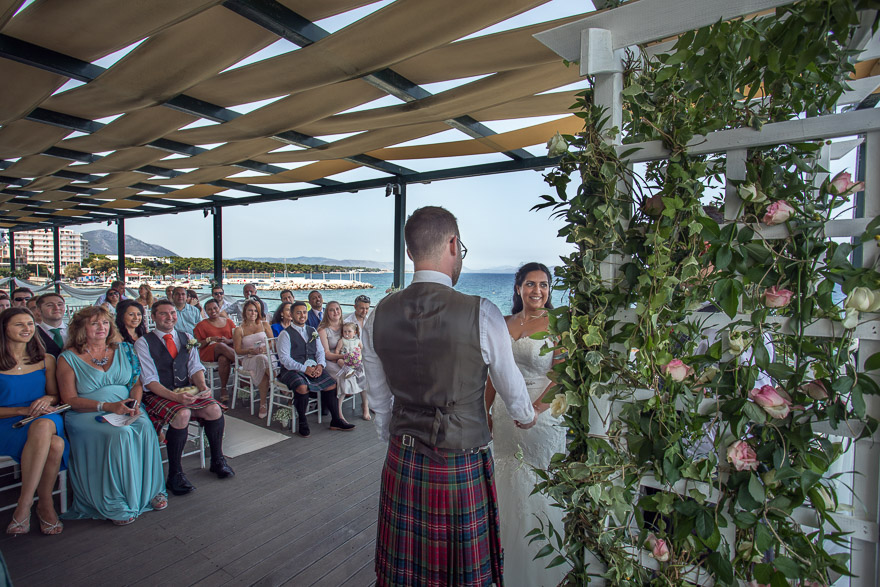 Photo: Weigert Images, you can view the whole series here.
Skin tone plays an important role in the selection of the wedding dress. Women with cool skin tone are matched with cool white, pure white, silver white or pale pink dresses, while women with warm skin tones are matched with champagne, soft ivory, camel, ecru and earthy color wedding dresses. The cost of wedding dress rental ranges from 500 euros to 2500 euros in Greece. However if you want to keep your wedding dress in the wardrobe forever, you need to spend 1300-8000 euros. If you are more proactive, you can buy a wedding dress in November with a price tag as less as 300 euros in the bazaar. An equally economical solution is going to the fabric market and hiring a seamstress.
The groom's appearance should be perfectly in line with the bride's wedding dress, groom suits start at 250 euros. Clothing for the groom is somewhat more economical as the average cost for the suit, shirt, tie, shoes, socks and cufflinks ranges between 500 and 1000 euros.
The average price of hairdressing including trials reaches 200-300 euros, makeup costs another 150-200 euros and an optional beauty therapy might be an additional 30-100 euros.
Wedding photography and video prices individually start from 1000 euros in Greece, the average is around 1200-1500 euros, while modern wedding cinematography might cost you as much as 3000 euros. The price also depends on the included extras (length of shooting, engagement session, albums, etc.) Weigert Images also offers wedding photography in Athens and Greece, with really good price-quality ratio. Please check our portfolio and feel free to contact us.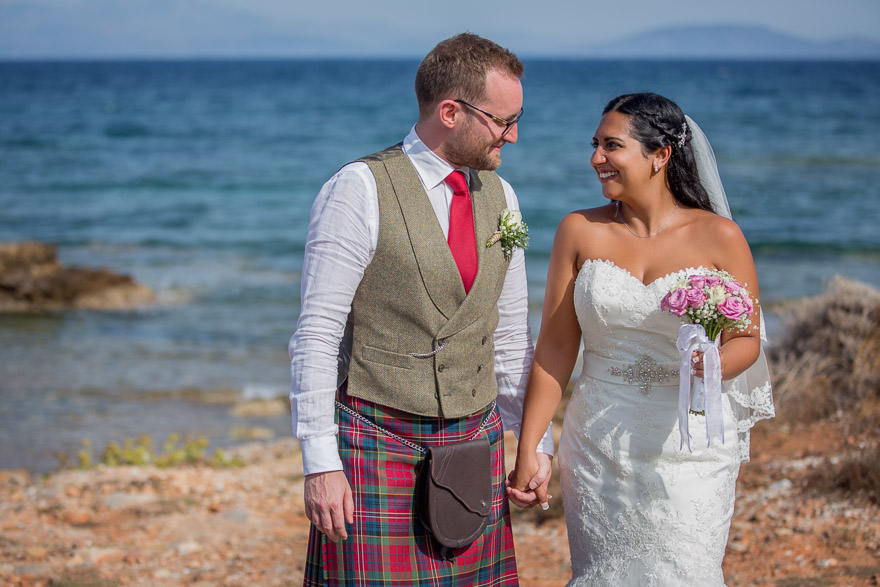 Photo: Weigert Images, you can view the whole series here.
Wedding decoration, flower arrangements cost 650-1500 euros in Greece, prices vary depending on the chosen flowers and the style of the wedding. Flowers will be used in the church (300-1400 euros), for the bridal bouquet (60-80 euros) and for the car, as well.
If you are a fan of live music, you can hire an orchestra or a band for 1000-1500 euros, while a professional DJ will cost you 250-4000 euros.
Receptions take usually a large chunk of your wedding budget. Catering generally costs 17-25 euros per person in the countryside, however in Athens it starts from 35 euros per person. If you are lucky, you can rent a really impressive event room with menu included for 100 people around 4000 euros.
The newlyweds usually go on a honeymoon after their wedding and in many cases they opt for a Greek island. The cost varies according to the destination and usually doesn't exceed 2500 euros for two people. However, some exotic destination like Bali, Cuba, Jamaica might add an expense of up to 1600 euros per person.
Would you like more info on our wedding photography and wedding film services in Greece? Please, check our work here: www.weigertimages.com